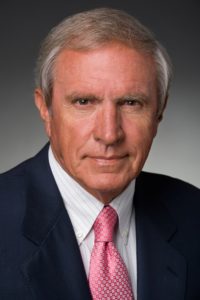 Writer Shannon Severson
Photo by Mike Spinelli

[dropcap]W[/dropcap]hen Anthem honors veterans at the fifth annual Veteran's Day celebration on November 11, a very special guest will give the keynote address. Retired Navy Adm. Paul David Miller is the former Commander in Chief United States Atlantic Command and served concurrently as NATO Supreme Allied Commander Atlantic. In addition to numerous personal, foreign, unit and campaign awards, he is a recipient of the Defense Distinguished Service Medal and the Distinguished Service Medal from the U.S. Army, Navy (five awards), Air Force and Coast Guard.
Service to country comes naturally to Miller and his family. His father served as a second class petty officer with USS Farragut (Driving 348) during the attack on Pearl Harbor on December 7, 1941. He recalls growing up with then-Chief Petty Officer H.S. Miller, who was heavy on discipline and taught values engendered in our nation's finest: duty, responsibility, accountability, integrity and the simple value of hard work.
Both of Adm. Paul David Miller's sons went on to serve as naval officers and are Iraq veterans. One was a Navy doctor with the Marines during two Iraq deployments, and the other on a guided missile cruiser in the Persian Gulf.
"Between my father, my sons and myself, our family has more than 70 consecutive years of military participation," says Miller.
As someone who rose to the highest ranks of the United States military, it is notable that Miller was not a graduate of the United States Naval Academy.
"I joined the Navy because the draft was ongoing," says Miller. "I had completed an MBA at the University of Georgia and draft letters were being received. For me, it was easy to seek out a Navy recruiter and join to secure a slot in naval officer candidate school."
After completing Officer Candidates School, he was commissioned an ensign in the U.S. Naval Reserve in December 1964. Upon completing initial sea tours, the last of which was a missile destroyer with deployments to Vietnam, it came time to make a decision. It was 1969, and Miller could leave the Navy or stay.
He decided to extend for one more tour of duty, this time in Washington, D.C. There, he met then-Lt. Ron Tucker, now an Anthem resident and retired rear admiral, and began a friendship that has spanned more than four decades.
In the post-Vietnam era, Adm. Elmo "Bud" Zumwalt had been appointed chief of naval operations by President Richard Nixon, becoming the youngest person ever to serve in that role. Miller remembers him as a dynamic individual, responsible for modernizing personnel guidelines and instituting policies that eased tensions with minorities. Zumwalt keyed in on policies that would attract and retain young officers. His changes to the patterns for promotion were key to Miller making the Navy his career.
"I was very fortunate to be part of the eligible field who was promoted early," says Miller. "As with any opportunity, once you've demonstrated that you have the ability to perform, you get the chance to do it again. After my first early command, I went to the Naval War College and then to the Pentagon on the staff of the Chief of Naval Operations."
Miller's upward trajectory continued. He attended an executive management program at Harvard Business School and went directly to command a guided missile destroyer. He then worked for the commander in chief of the Pacific.
Miller was then the executive assistant for John Lehman, who was Ronald Reagan's young Secretary of the Navy. In 1986, he commanded the USS Enterprise (CVN65) Battle Group, then the U.S. Seventh Fleet, and finally the U.S. Atlantic Command and served as NATO Supreme Allied Commander Atlantic.
All that was left was to be named to the Joint Chiefs of Staff. But this appointment was not to be, and Miller retired on October 30, 1994. He took with him a lifetime of adventures and leadership lessons that were immediately put to use in a private sector career. Leaving earlier than his four-star contemporaries allowed him to go to industry in a leadership role.
"I left the Navy simply because I ran out of altitude and air speed," says Miller. "I went into industry because there was an opportunity to be rewarded for performance. When one door closed in the military, another opened in industry. I was able to provide for my family in another way — through success in business."
Miller went on to serve as president and CEO of Sperry Marine, a maritime navigation equipment company, and then as chairman and CEO of Alliant Techsystems, an aerospace defense sector company specializing in rocket propulsion, missile and ammunition production. Since retiring from industry, he serves on the boards of directors for Donaldson Teledyne and Huntington Ingalls Industries.
As a veteran, the switch to civilian life was a huge change. Miller had to swiftly transition from leading the entire Atlantic Command to managing finance, manufacturing, sales and international markets. He didn't have much time to miss being in the military because he was so busy. Miller took on the task as just another assignment and went to work.
"I was comfortable in a business leadership role because I had learned many of the tenets of leadership from my father and from my time in the military," says Miller. "It's about making the right decisions and putting the right people in leadership roles. As in the Navy, you have to know and trust that your people are doing what they need to do and doing it with excellence. Then, you can spend time on business units and operating divisions that need more focused help.
"Leadership is absolutely key. You need to have the facility and ability to communicate personally with employees at all levels."
Miller made it a point to spend as much time with the employees on the manufacturing floor as he did with management. Similarly, when he was on an aircraft squadron or ship, he spent equal time with the mechanics as with the top brass in the ready room.
"It's important that everyone feels like they're working on one goal, and that's to make the company successful," says Miller.
Miller doesn't often speak publicly, but was drawn in by the information that Rear Adm. Ron Tucker sent him. He was impressed by the work of the Anthem Veterans Memorial committee and the individuals who will represent the wars in which they participated. This, coupled with the uniqueness of the memorial, made this event especially compelling.
"As a veteran, and having a family of veterans, it's been our honor and responsibility to serve," says Miller. "Our family continued the work that members of our armed forces have done since 1776 in ensuring our freedom and giving us the greatest country on Earth in which to live."
The Anthem Veterans Memorial ceremony will take place on November 11 at 10 a.m. in Anthem Community Park, 41703 N. Gavilan Peak Pkwy. Ceremony attendees are encouraged to arrive early to attend the fundraising breakfast provided by the St. Rose Philippine Duchesne Parish Knights of Columbus beginning at 8 a.m. There is limited seating and parking, so lawn chairs and off-site parking are encouraged. The ceremony will last approximately 70 minutes and lead to the 11:11 a.m. memorial moment when the sun's rays pass through the ellipses of the five Armed Service pillars, casting a perfect solar spotlight over the mosaic of The Great Seal of the United States.