Getting in the 'Game' Again: Corey McCloskey Returns to Career Roots
Writer Joseph J. Airdo
Photography Courtesy of the Scottsdale Musical Theater Company, FOX 10, Cory McCloskey and Nick Woodward-Shaw
Cory McCloskey remembers quite fondly the first musical he ever saw performed live on a stage. He was about 11 years old when his elementary school class was invited to the neighboring high school's dress rehearsal of "The Pajama Game" in his small home town of Millersburg, Penn.
"It was kind of a sophisticated story for a fifth grader but I clearly remember a couple of the scenes," says McCloskey before breaking into song. "Hey there, you with the stars in your eyes …"
McCloskey credits his interest in show business to the musical's lead actor Hadley Brown.
"His name alone makes him sound like some kind of a superstar or something," says McCloskey, noting Brown portrayed the lead in "Bye Bye Birdie" the following year. "He was the captain of the football team, he did all of the school musicals and he was a really handsome guy. I remember walking back from that show and hearing all of the girls in my class singing, 'We love you, Hadley, oh yes we do.' I thought, 'Man, if I can get a piece of that, this is for me.'"
McCloskey has the chance to do so when he portrays the same character that, more than 45 years ago, started him on a trajectory to his current role as a meteorologist and television personality for FOX 10. He hopes that Brown, who has a winter home in Fountain Hills, will be in the audience just as he was all those years ago—bringing his story full circle.
Bringing Broadway to the Valley
McCloskey will play Sid Sorokin in Scottsdale Musical Theater Company's presentation of "The Pajama Game," a comedy based on Richard Bissell's 1953 novel "7½ Cents," which tells the story a pajama factory where workers' demands for a raise go unheeded. In the midst of the ordeal, love blossoms between the grievance committee head and the new factory superintendent.
Scottsdale Musical Theater Company has carved a niche for itself by presenting shows that feature celebrity guest stars. Last year, "Days of Our Lives" and "The Nanny" star Charles Shaughnessy appeared in both "42nd Street" and "A Christmas Carol." "A Different World" star Dawnn Lewis appeared in "Thoroughly Modern Millie" earlier this year.
After a chance encounter with McCloskey, Scottsdale Musical Theater Company executive producer David Hock was eager to bring one of the Valley's most recognizable and enthusiastic television personalities into the mix and the two decided that "The Pajama Game" checked all of the boxes.
"It is the perfect summer show because it is so light-hearted and fun," Hock says. "It allows you to escape for a couple of hours, not think about anything and just enjoy yourself. Not everything has to have a motive or change the world. There is something to be said for just being entertained."
Scottsdale Musical Theater Company has 10 performances of "The Pajama Game" scheduled July 11–21 at Tempe Center for the Arts, a venue that accommodates national tour sets with outstanding technical capabilities that allow the company to fully reflect the vibes of the show's Broadway roots.
"The set is going to be fantastic, the costuming will be great and it is just going to be a fun production," says McCloskey, noting that Hock has given him flexibility to explore the character. "I am so grateful to have been offered this role."
McCloskey is especially drawn to "The Pajama Game" because of the evolution of the character he portrays. Sid Sorkin shows up as the new guy in town and is not particularly well-liked. He is the straight man in comedic situations that surround him and softens up over the course of the story.
"John Raitt, who did this role on Broadway and also in the [1957] movie, was very athletic," says McCloskey, noting that he is planning to lose a little weight prior to the performances to match the actor's physique. "When he got on the stage, he just took it over. He had a really powerful presence. I do not really like to model myself after anyone but I will say that his approach to this particular role was cool. I am hoping that I can bring the same kind of energy to the role."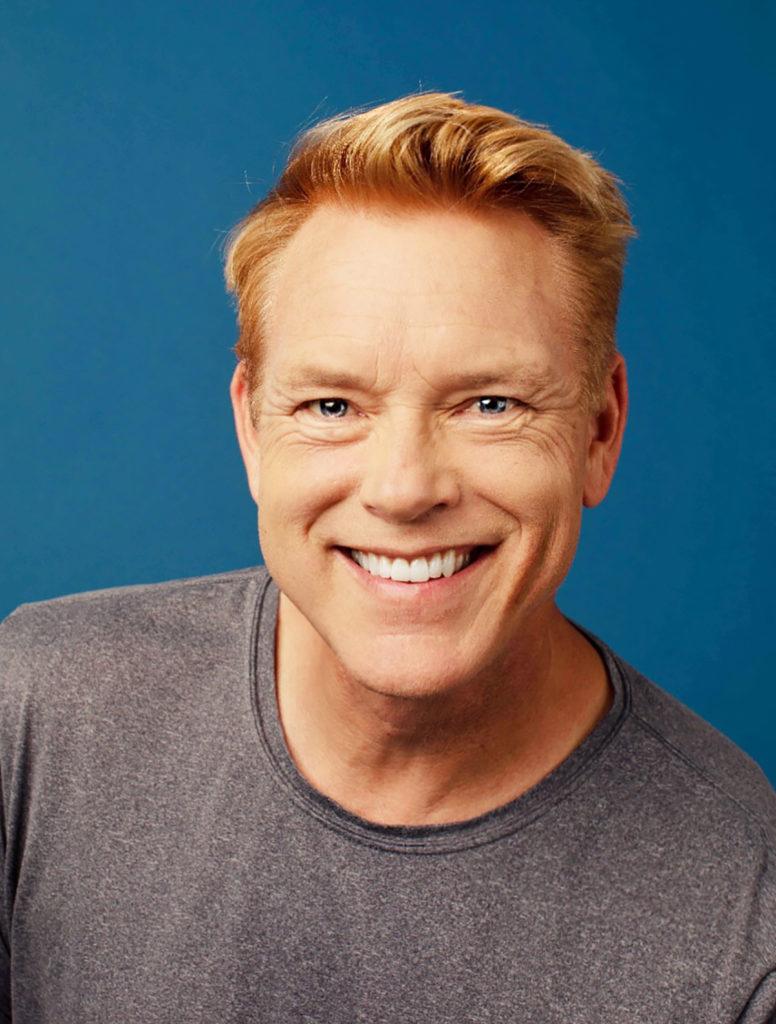 Witnessing Human Versatility
McCloskey knows that some audience members will be a bit taken aback by seeing the guy who does the weather on the local news belting out tunes such as "Steam Heat" and "Hernando's Hideaway." However, he believes it will also please them to see another side of someone they essentially welcome into their homes each morning.
"I love to see somebody that I have watched on television or that I know from some other genre doing something else," says McCloskey.
For perceptive fans, It should come as no surprise that McCloskey can sing and act. McCloskey's career actually started on the stage.
After appearing in a few school plays and dinner theater performances, McCloskey moved to Philadelphia in his early 20s to pursue a career as a model for catalogs, newspapers and television commercials.
"I thought that I could do more than that, so I acquired a manager for acting purposes," McCloskey says. "She began sending me to New York for auditions. I liked the thrill of [attending] auditions and snagging the occasional role, but I did not want it badly enough to move my wife there."
McCloskey's acting resume includes several children's theater performances, jingles for Acura and McDonald's, and a small role on the NBC soap opera "Another World."
"I made my living life like most New York actors do—having one gig but always looking for the next two," McCloskey says. "My wife Mary Jane and I were cobbling our incomes together and knew that, if we wanted to settle our family down, one of us would have to make a move."
One evening while watching the weather report on the local news, McCloskey turned to his wife and said, "Honey, I think that I could do that job." She suggested that he call the TV station, ask to speak with the meteorologist and find out how he got his job. The next day, McCloskey did just that and was advised to go back to college to pursue a degree. He followed that advice, then earned an internship at WGEM-TV in Quincy, Ill.
"That put us on the road to what I do now," says McCloskey, "I have been in the weather business for about 30 years now. Every once in a great while, I have been able to get back on the stage but the hours are tough."
At least once every year, McCloskey dusts off his acting chops and treats himself to a role in a local play, such as Ebenezer Scrooge in "A Christmas Carol" at Hale Centre Theatre in Gilbert. When Hock approached him about portraying Sid Sorkin in Scottsdale Musical Theater Company's presentation of "The Pajama Game," McCloskey thought the offer was just too good to refuse.
From Stage to Screen
McCloskey believes that the audition processes and performances he experienced during his 20s gave him the confidence to achieve his on-screen dreams.
"It certainly got me my first television weather job," McCloskey says. "I was not over-confident during my audition, but that process seemed like just another performance in front of some people who I did not know."
McCloskey often speaks to kids about his career. One of their most frequent questions is the one he posed to that television meteorologist 30 years ago: "How can I do what you do?"
He always advises them to get themselves in front of as many people as they can, as often as they can.
"If it is time to give that oral report in class, jump up there first," McCloskey says. "You know that you have got to do it anyway, so be the first one and have a little joke ready because people love to laugh.
"Be in the musical, be in the band, be in the chorus, get on the debate team—whatever it is that will allow you to be in front of people. There is no substitute for just getting up there in front of people over and over and over again."
Scottsdale Musical Theater Company Presents The Pajama Game
July 11–21 | Tempe Center for the Arts | 700 W. Rio Salado Pkwy., Tempe | $48+ | 602-909-4215 | scottsdalemusicaltheater.com