Collaboration in Concert
Writer Joseph J. Airdo
Photography by Loralei Lazurek
ProMusica Arizona currently features nearly 100 multigenerational singers and instrumentalists — a monumental increase over the 17 singers with which it started upon its founding 17 years ago. Since 2003, the group has performed more than 175 times for more than 131,000 people.
All of that growth and success can be attributed not only to the talented singers and instrumentalists who make up its chorale and orchestra but also the four women who, together, lead the nonprofit performing arts organization — Yvonne Dolby, Patti Graetz, Jan Sandoz and Meghan Ruel.
"I believe our decision-making is enhanced by the fact that we each have our own areas of expertise and unique perspectives to bring to the table," Dolby says. "There is no competitiveness though. We respect one another's ideas and work well as a team."
Graetz agrees, noting that commitment and dedication are the oils that keep the engine running smoothly.
"We work together seamlessly to create a great experience for everyone — from our singers and our players to our volunteers and our audience," Graetz says. "There are no egos amongst us either. We are all members of the 'mutual admiration society.' We recognize each other's areas of expertise and get out of the way to let each person do what they are best at."
Yvonne Dolby
Prior to joining ProMusica Arizona in 2011, Dolby obtained a bachelor's degree in communications from California State University, Fullerton and spent several years managing a privately-held company. She now serves as the nonprofit performing arts organization's executive director.
"Working for a nonprofit is a very different experience than working in the for-profit sector," Dolby says. "While fundraising challenges always exist, I have learned that people who understand the importance of the arts in our community are generous with their resources."
Unlike the other three women who make up ProMusica Arizona's leadership team, Dolby is not a musician. Instead, she is responsible for marketing, development, box office operations and administration. She is particularly skillful in helping to bring grant support to the group — a necessity for any nonprofit organization.
Within the last year, ProMusica Arizona has received grant funding from the Arizona Commission on the Arts, the city of Glendale, the city of Peoria, the Scottsdale League for the Arts and the Anthem Rotary Club. Rather than taking all of the credit, Dolby contends that the grants are a well-deserved group effort.
"The people make this organization special," she says. "We have members from many different backgrounds, and all ages are welcome. Community musicians are side-by-side with professionals. It is rewarding to see them come together and share their love of music."
Dolby adds that she considers herself a fan of ProMusica Arizona's concerts and is absolutely amazed at the improvement in the quality of performances that she has seen over the nine years that she has been with the organization.
"I have a real appreciation for the talent among our members and the variety of musical genres presented," she says. "It just makes me want to work harder to be sure people are aware of ProMusica Arizona."
Patti Graetz
With a music career that spans more than 30 years, Graetz has worked under many phenomenal conductors. However, the one who inspired her the most was her high school choir director Coloma Lafferty.
"She was a phenomenal musician and expected all of her choirs to sing college-level a cappella music with a college-level sound," Graetz says. "She painted the phrases with her hands as she conducted. No two performances were ever the same because she created as she felt inspired."
Lafferty learned her technique from Paul J. Christiansen, the long-time conductor of Concordia Choir in Moorhead, Minnesota. When Graetz was a sophomore in high school, she saw the Concordia Choir perform and was so impressed that she decided that she wanted to attend the school and sing in the choir.
Since graduating from Concordia College, Graetz has lent her voice to leading roles in major opera company productions throughout the U.S. and Australia. The conductor and award-winning soprano entered the position of ProMusica Arizona's assistant chorale conductor in 2015.
During ProMusica Arizona's 2018–19 season, Graetz was asked to step into the role of interim artistic director. That year, attendance of the group's concerts grew 26% over the prior season — an increase that was attributed to the type of music being presented and the quality of the performances. The group then named Graetz its new artistic director and principal conductor.
"I love that I get to create unique programs," Graetz says. "I love the classics, but I [also] love searching for great arrangements of familiar pieces or newer works that have not been widely performed that I know will connect with our audience. I love the opportunity to bring music to life."
Graetz adds that ProMusica Arizona's rehearsals are fun but often intense. Her hope is that everyone leaves rehearsal feeling inspired, energized, excited at what they learned and knowing that they were stretched but ultimately successful.
"It is true that no one cares how much you know until they know how much you care," Graetz says. "Building relationships is the key to the success of any organization. I have a deep sense of responsibility to take care of every person ultimately in my care. As long as I do that, we will make great music together."
Jan Sandoz
Sandoz has been involved in performing arts her entire life.
"While athletics was never my strength in childhood, I was always a good musician," Sandoz says. "Singing in a choir or playing in the band gave me the opportunity to experience teamwork and develop leadership skills, providing me the same satisfaction others got from participating in sports."
Sandoz attended a state college in Wayne, Nebraska where she received a bachelor's degree in fine arts education with an emphasis in voice and keyboard before going on to earn a master's degree in management from Bellevue University in Bellevue, Nebraska. She now chairs both ProMusica Arizona's board and development committee in addition to singing with its chorale.
Her contributions to the group include helping to quickly raise funds when new microphones were needed for a performance and ensuring that ProMusica Arizona's 2019 spring fundraising campaign exceeded expectations by 24%.
Sandoz believes that it is a benefit that she and ProMusica Arizona's other three leaders are able to approach every challenge as a team. She is also quick to give credit to everyone else involved in the nonprofit performing arts organization.
"We rely heavily on volunteers," she notes. "I have learned how important it is to acknowledge and appreciate everyone's contribution — no matter how large or how small."
With the help of volunteers and her development committee co-chair, Sandoz spearheaded efforts during the 2018–19 season that raised enough money to allow ProMusica Arizona to pay off all debt, give staff and contract musicians pay raises, end the season in the black and survive the lean summer months with a financial cushion.
Meghan Ruel
When she was growing up, Ruel's mother would bring her to chamber music festivals every summer. She recalls being inspired seeing how the best musicians in North America would take the stage and move the audience.
"My first experience playing large works, such as Mozart and Beethoven symphonies, was in community and youth orchestras," Ruel says. "Music was a form of social and emotional connection that enabled me to question life more honestly. I was obsessed with the idea of being both strong and vulnerable."
Ruel earned a bachelor's degree from the University of Toronto and a master's degree from Arizona State University, both in violin performance. The youngest of the four women who make up ProMusica Arizona's leadership team, Ruel now serves as the group's concertmaster — also known as the lead violinist.
Her favorite part of working with ProMusica Arizona is knowing that she is contributing to the musical enrichment of communities in the Valley.
"Music is no longer for high society, elite entertainment," she says. "Everyone should have the right to access quality arts and education."
Ruel adds that being a member of ProMusica Arizona is a continuous, communal learning process.
"We have to harness the tools and patiently guide one another in order to achieve our highest potential," she explains. "This orchestra is about love and patience. It is about understanding the fundamental reason why we individually decide to commit to weekly rehearsal — because together, we can do just about anything."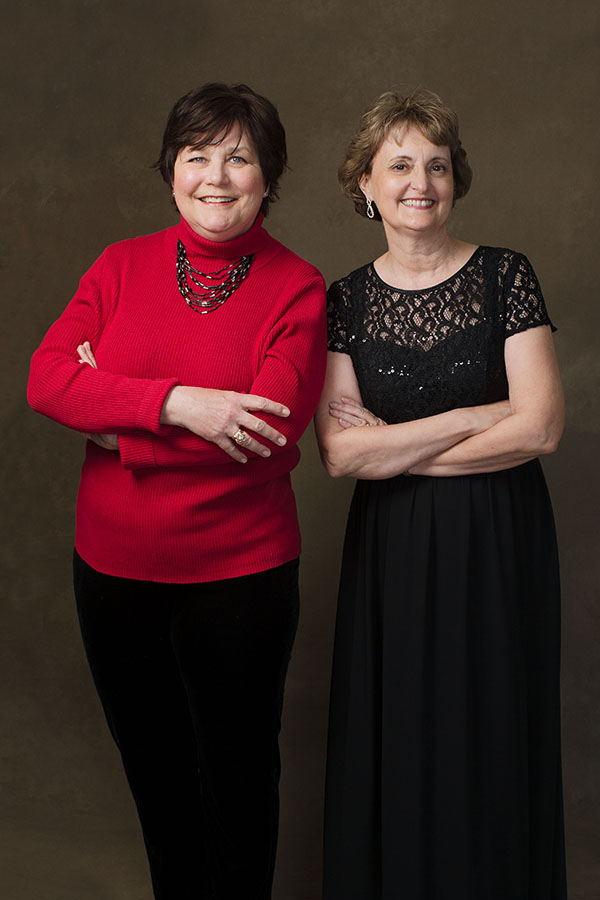 Ruel recently accepted a faculty position at Arizona Christian University as string department director and professor of violin. Her contributions to ProMusica Arizona include a proposal to collaborate with Arizona Christian University. The partnership, which allows string students at the college to play with ProMusic Arizona and receive college credit, filled empty orchestra seats and gave students an opportunity to gain instruction and performance experience.
Latin Spice
The team is currently getting ready for ProMusica Arizona's Latin Spice concert, scheduled for performances Saturday, April 4 in Anthem and Sunday, April 5 in Sun City.
Graetz recruited the Arizona State University Mariachi ensemble and the Carolyn Eynon Singers to join the group for the concert, which aims to take audiences on a musical journey through Latin culture.
"It will be a thrilling sound, especially when combined with the orchestra," Graetz says.
The concert will feature "Misa Azteca," a musical oratorio that is a Mariachi-style full mass setting for choir and orchestra, ethnic percussion and guitar. The piece is sung in Latin, Spanish and Nahuatl — native Aztec — with translations and stunning visuals projected on large video screens.
"It is a work that needs to be heard," Graetz says. "It is beautiful and exciting, full of the sounds of the rich musical heritage of the Hispanic people and their ancestors."
Dolby adds that "Misa Azteca" combines rituals and religion of the Spanish and Latin Roman Catholic liturgy with the Aztec poems and rhythms of the indigenous people of central Mexico.
"It is a major work for choir and orchestra by Joseph Julian Gonzalez and has been performed in major venues around the world," she says. "It is different from anything ProMusica Arizona has done in the past and we believe we will be bringing a memorable experience to our audience."
Ruel agrees, adding that the piece is of a magnitude that most concertgoers may have never experienced before.
"'Misa Azteca' is a mindfully braided work that combines raw, honest language with powerfully rhythmic music," Ruel says. "I personally might not ever have the chance of playing it again in my life. Musicians sometimes only play the best, largest works of music once in their professional careers."
Other Latin-influenced pieces that ProMusica Arizona will perform during the concert include "Blue Tango" by Leroy Anderson — composer of the iconic Christmas favorite "Sleigh Ride" — and "Night and Day" by Cole Porter. "Dance a Cachucha" from Gilbert and Sullivan's operetta "The Gondolier" will serve as the rousing grand finale.
Sandoz believes that the concert has the potential to broaden ProMusica Arizona's audience.
"As an ambassador for ProMusica Arizona, I continue to explore ways to introduce new audiences to our performances," she says. "Because of the unique repertoire for this concert, I am working with the marketing committee to reach out to the Latino community. As a singer, I am honing my language skills in Spanish, Aztec, Latin and Portuguese."
In May, ProMusica Arizona will complete its season with its Baroque to Bluegrass concert, during which the group will be accompanied by a spirited live bluegrass band for a selection of songs that range from the Baroque period to the present day.
That concert also features some of the students that Ruel teaches during ProMusica Arizona's after-school strings programs for children.
"Knowing that I can impact youth and communities at large is of vital importance," Ruel says. "Impacting youth is synonymous with impacting the future. Music is my best tool to do so."
ProMusica Arizona's Latin Spice Concert
Saturday, April 4 | 7 p.m. | Cross of Christ Lutheran Church | 39808 N. Gavilan Peak Parkway, Anthem
Sunday, April 5 | 3:30 p.m. | American Lutheran Church | 17200 N. Del Webb Blvd, Sun City
$24 | Discounts available for seniors, military, students and children | 623-326-5172 | pmaz.org