Writer Shannon Severson
Photography Courtesy of Grace Renee Gallery
[dropcap]A[/dropcap]rtists are known for pushing boundaries. They test and stretch concepts, materials and audience perception. Ceramicist Brandon Reese takes his medium to the absolute edge of what is possible for such a fragile substance.
"My work pushes the boundaries not just because it's large, but because of how it's built," Reese says.
The Oklahoma-based artist, whose work is now on display at Grace Renee Gallery in Carefree, is known for his large-scale sculptural pieces that beautifully defy possibility. He often combines ceramic and native wood, either carved or simply smoothed down and presented in a natural state. At first glance, they appear to be forged of steel or iron.
"Once I committed my career to sculpture, I've always been interested in larger scale works," Reese says. "I think it comes from my background growing up around construction and being outside and involved in sports. I really like to be immersed in the material. It's like a dialogue; I am building it and responding to the materials. We interact back and forth."
His interaction with materials is also a conversation with those who see the final masterpiece.
Reese is inspired by his relationships, community, memories, family and the teachers and ceramic masters who made an impression on his career. One of those impactful relationships is manifested in his "Circle" series.
Reese's close friend Aaron Macy was one of the first to hear about the artist's plans for doing something big and challenging with ceramic as his medium — giant circles that are sculpted and fired in pieces, then fastened together with hidden grommets, gaskets, silicone, glue and bolts. Sadly, Macy passed away before the project was complete.
"Aaron was diagnosed with leukemia when I was making my first circle," Reese says. "I titled it 'Macy' after him because he was part of the birth of that idea."
Embracing Challenge
Reese's "Circles" and similar pieces are built horizontally. There are usually 6–12 segments per sculpture. He then divides them to fire, places holes for gaskets and grommets, glazes, fires again and carefully assembles the work, adjusting and cutting to fit as he goes.
It's a process that requires a few people to help raise the piece vertically and decide just the right point at which it will sit. If pressure is in the wrong spot, the entire piece will shatter. After all, his artwork is made of the same delicate material as coffee mugs and dinner plates.
"Nothing is finalized until that moment of truth when I set them up," Reese says. "There is a lot of problem solving. It's that engineering part that I enjoy. I teach at a university and helping students problem solve is part of the job. Artists have to be good at finding alternative solutions and workarounds."
The mediums he now uses to such fantastic effect actually began as the solution to a problem.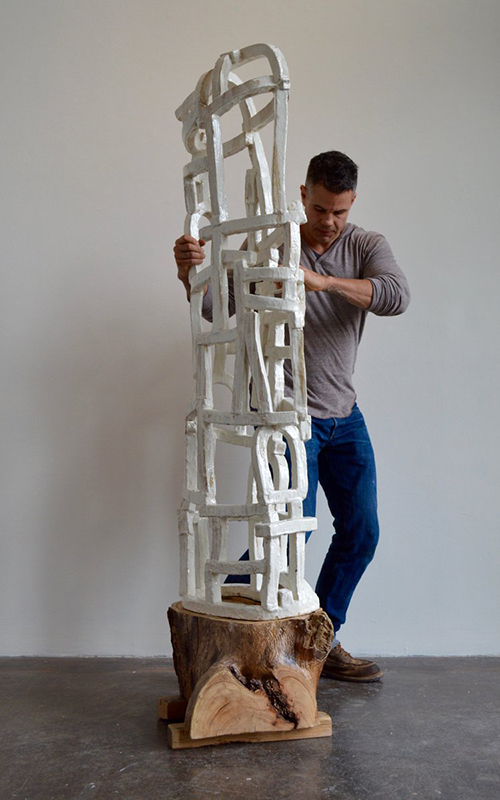 "In school, I studied sculpture and I worked with steel, wood, glass, bronze and iron casting," Reese explains. "I became fascinated with bronze and iron pours and making pieces that way. I've always enjoyed the fire aspect. I wanted a certain scale, but couldn't afford bronze and so began looking for another material."
That search led him to water-based clay — bonus points for the process involving fire. He had to familiarize himself with new materials, properties and methods.
Clay is forgiving in the beginning when it is wet, but that changes as it begins to dry. Reese must work quickly in an extremely painstaking process. He re-dampens the clay as needed, building and shaping the piece, propping with with foam, stilts and shims or sticks which myst be removed before the piece begins to dry and shrink.
Once dry, the clay is at its weakest point. Reese describes it as similar to compacted powder. The slightest jarring will make the piece implode.
"I don't use armatures because clay shrinks so much and will crack when it dries," he says. "With all my works –– the bars and pieces that are grid-like or the overlays of clay patties that are more like lace –– they're all patted out by hand."
Reese studied and learned different types of glazing and firing processes: salt, electric and gas — which produce different colors and texture. All affect the surface of the glaze or clay in unique ways.
Salt firing, a process that is relatively uncommon, requires salt to be thrown into the kiln during firing. Salt reacts with the surface, the glazes and clay to create surface variations. The amount of salt can give a variety of surface effects.
"I use all different glazes in the salt kiln," Reese says. "I don't really know exactly how things are going to come out until they're done. It's sort of like Christmas. You kind of know the size and shape of the package, but when you open it, it might be less than what you hoped for or more than you imagined."
Beauty in Imperfection
This mix of art and engineering is infused with his own personal history and small "imperfections" he purposely leaves behind — a reference to the human experience.
"Part of my work is that I leave fingerprints and imperfections," Reese says. "The evidence of the artist's hand in the finished work is something I've always enjoyed. I could make it slicker or perfect, but that's not what it's about or what I am about.
"My work is simple, but I try to make it accessible. I want to leave the marks from my hands or the glaze or dents that happen as I'm shaping. The kiln makes its own mark, giving one more layer of history. I embrace it instead of erase it. As people, we are made of all the pieces that impact our lives. We are marked by our history and experiences."
Reese's choice to incorporate wood into many of his works is also a reference to history because the raw wood he uses, cut from trees near his Oklahoma home, tells its own history in trunk rings and negative spaces where bugs have burrowed. He tends to keep the wood natural and unstained, occasionally charring or burning pieces to add aesthetic or color.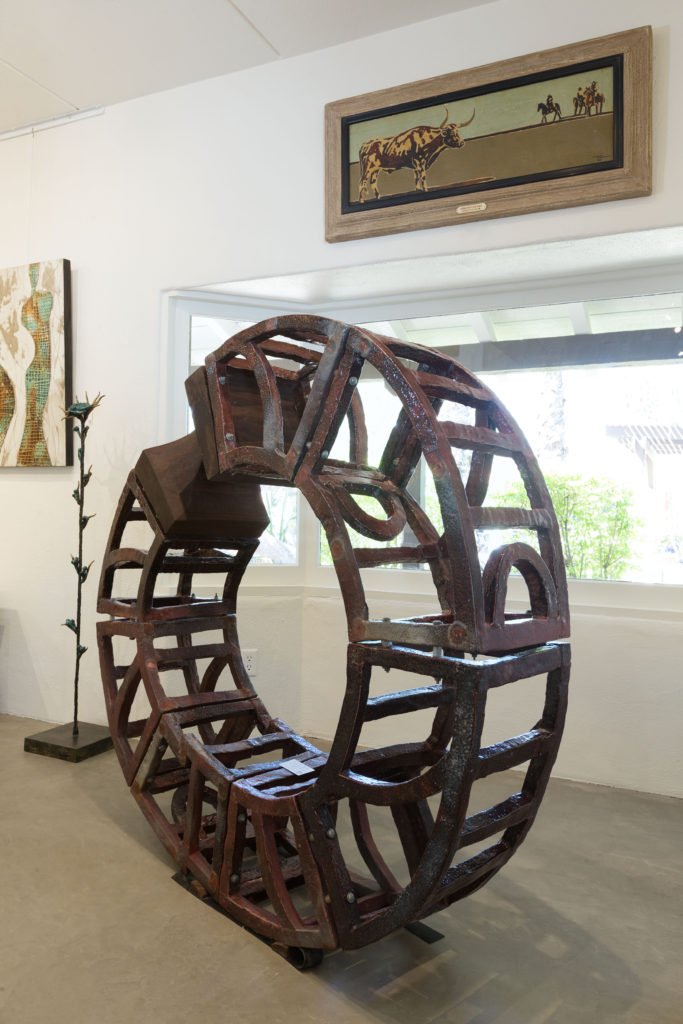 "Some trees have bits of barbed wire that the wood absorbed as it grew," Reese says. "Those are the things I enjoy and I leave those in. The imperfections create a dialogue and a history before this history. It's like seeing kids grow up and watching how experiences shape them."
His "Tower" sculptures are reminiscent of daringly built, childhood block towers. Also on the playful side, Reese's small-to-medium "Pillow" sculpture wall works series gives the impression of being soft and light. He uses a variety of colors and textures, and sometimes uses both wood and clay, their fastenings hidden from view.
"When I started doing the pillows, I watched my how my twins interacted with each other and that translated to relationships that the pillows represent," Reese says. "Two friends, a husband and wife, siblings –– the sum is greater than its parts. Something is added in the coming together rather than two things on their own. With wood and clay or two people, both add something the other doesn't have."
As Reese continues to live, teach, create and raise a family in the town of Stillwater, Oklahoma, he draws upon his own sense of keen observation to create remarkable art that is awe-inspiring –– embracing challenge and the beauty found in imperfection.
The Art of Brandon Reese
Thursday, April 9 | 4–7 p.m. | Grace Renee Gallery | Historic Spanish Village | 7212 E. Ho Hum Road, Carefree | 480-575-8080 | gracereneegallery.com