Carefree/ Cave Creek Chamber Awards
Writer Amanda Christmann
Each year, the Carefree Cave Creek Chamber of Commerce taps the town's top business to receive the Celebration of Excellence Business of the Year award. It's always a tough competition, and this year's nominees are no exception.
The Sonoran Arts League, Watson's Hat Shop and Bryan's Black Mountain BBQ each contribute to the community in their own unique way, and judges will have a difficult time choosing only one for the top prize. Still, a winner will be announced at the chamber's Celebration of Excellence awards breakfast March 29.
The Ambassador of the Year and the recipient of the new Impact Award will also be announced.
Drum roll please …
Here are the finalists for the Carefree Cave Creek Chamber of Commerce Excellence Awards:
THE SONORAN ARTS LEAGUE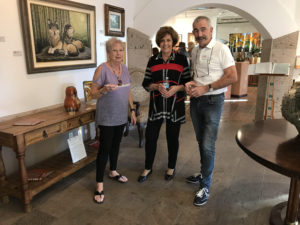 Based in Cave Creek, Carefree and North Scottsdale, the Sonoran Arts League is a non-profit, volunteer-based, arts service organization dedicated to actively advancing art, artists and art education, affirming the belief that art and artistic awareness is essential to the well-being of life and the community. 
Sonoran Arts League's 780 members participate in community outreach programs, public art programs, youth mentoring and art education, as well as free veterans' and special art programs. Throughout the year, the league produces several popular events, including the annual Hidden in the Hills Artist Studio Tour and Sale, Sonoran Small Works Art Show, Sonoran Festival of Art Extravaganza, and holiday artisan markets. In addition, the league partners with the Foothills Food Bank each year to support the annual Empty Bowls project.
By building strong partnerships with area towns, resorts and libraries, the Sonoran Arts League brings free art to the public. Art in Public Places programs include: The Gallery at el Pedregal and the Boulders Resort, the Desert Foothills Library, as well as the Town of Cave Creek and Anthem.
The new Center for the Arts at Cave Creek's Stagecoach Village, where the league is headquartered, provides the public with opportunities to create art and learn new skills. The center also facilitates art events, festivals, exhibitions, shows, group activities and art experiences, and free veteran and youth art classes, providing plenty of opportunities to, as their motto states, be a part of the arts.
480-575-6624
WATSON'S HAT SHOP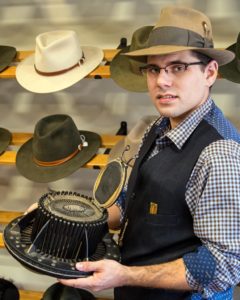 Owner Eric Watson's passion for hats started when he was a teenager. Inspired by the fedora worn by Indiana Jones, he began his quest to learn the art of hat making by restoring fine vintage hats from as long ago as 1912. After college, well-seasoned hatters shared their knowledge and hatter's equipment with him. Now, as the owner of Watson's Hat Shop, Eric makes all styles including Aussie, cowboy, dress, fedora, Panama, safari and heritage hats.
Eric's work harkens us back to a time when people took pride in what hat they wore because it was tailor made by a master craftsman. Watson's hats are made with pride and will last a lifetime when worn properly. At his family-owned and -operated shop in Cave Creek's Stage Coach Village, each hat is hand crafted using rare hat making equipment from 1860.
Watson's hats have garnered media attention from all over the country. His work has been showcased in local and national press outlets including newspaper, magazine and television features. Recently, he was named the official hat maker of the new Netflix series, "Godless."
480-595-9777
BRYAN'S BLACK
MOUNTAIN BBQ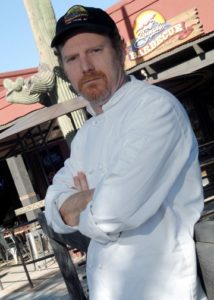 According to Chef Bryan Dooley, owner of Bryan's Black Mountain BBQ, he never intended for a career in the kitchen. "I was never really planning on being a chef, but life happened—and we are sure glad it did. Dooley grew up in Chicago and moved out west to attend NAU in the 80s.
He completed his degree in photography, but then Bryan decided to attend culinary school. He was trained in the classical style, attending the Culinary Institute of American in New York, and spent 13 years as a chef at the luxurious Fairmont Scottsdale before he opened Bryan's Black Mountain Barbecue.
When the opportunity arose for him to open his own restaurant, Bryan and his wife Donna wanted to do something a little more his style—a little more down-home. After all, he comes from a family of great cooks.
Bryan and Donna designed Bryan's Black Mountain BBQ in "clean cowboy" style. Everything from the menu to the décor and the logo exemplify his personal taste, and reflect well on the historic roots of the Town of Cave Creek. Since then, Bryan's Black Mountain BBQ has won numerous awards across the Valley for best barbeque.
From traditional barbecue dishes like sandwiches, plates and combos, to unconventional offerings such as frog legs, there is something for everyone at Bryan's.
480-575-7155