Writer Sue Kern-Fleischer
Photography Courtesy of Cave Creek Rodeo Days
[dropcap]I[/dropcap]n some ways, Mandi Holland has been waiting for this moment her whole life.
She is a full-time mother, business owner, veterinarian and a former rodeo queen who has won many prizes competing in amateur and collegiate rodeos as well as local jackpots. But, thanks to Cave Creek Rodeo Days, she now has a chance to compete on a national level in a sport she has been passionate about since she was 10 years old — breakaway roping.
Now in its 43rd year, with Sanderson Ford as the 2020 title sponsor, Cave Creek Rodeo Days will take place at Cave Creek Memorial Arena March 27–29 with three thrilling rodeo performances featuring top-ranking Professional Rodeo Cowboy Association (PRCA) and Women's Professional Rodeo Association (WPRA) contestants.
The weeklong event kicks off at 9 a.m. Saturday, March 21 with a festive parade through town and continues with a golf tournament Tuesday, March 24 at Rancho Mañana Golf Club in Cave Creek.
Giving Women More Chances to Compete
Breakaway roping is a variation of calf roping where a calf is roped, but not thrown and tied. While the thrilling sport has been going on for years, PRCA rodeos traditionally have only featured competitions for men. Instead, barrel racing for women got the spotlight in the national arena.
This year, Cave Creek Rodeo Days board member Daren Peterson is introducing a new breakaway roping for women competition to the local rodeo. A local resident who owns Longhorn Productions, Peterson produces team roping events throughout the country.
"We're always looking for new ways to grow our rodeo, and the popularity of breakaway roping for women has been surging," Peterson says. "It's exciting for both the participants and the spectators because of all the factors in motion — the horse, the roper and the calf they are roping."
This year's new event will take place Friday, March 27 after the morning barrel racing slack competition. Slack is the preliminary competition for any excess entries, and is free for the public to attend.
Entries will be taken at the arena 8 a.m. Friday, March 27. The contestant who is first to sign up to enter is the last to rope. The top 20 breakaway roping competitors will then compete during a third round for the $1,200 prize from Cave Creek Rodeo Days plus 75% of the entry fees.
Peterson expects a big turnout, especially because just a handful of PRCA-sanctioned rodeos started to include the competitive sport for women in the past year.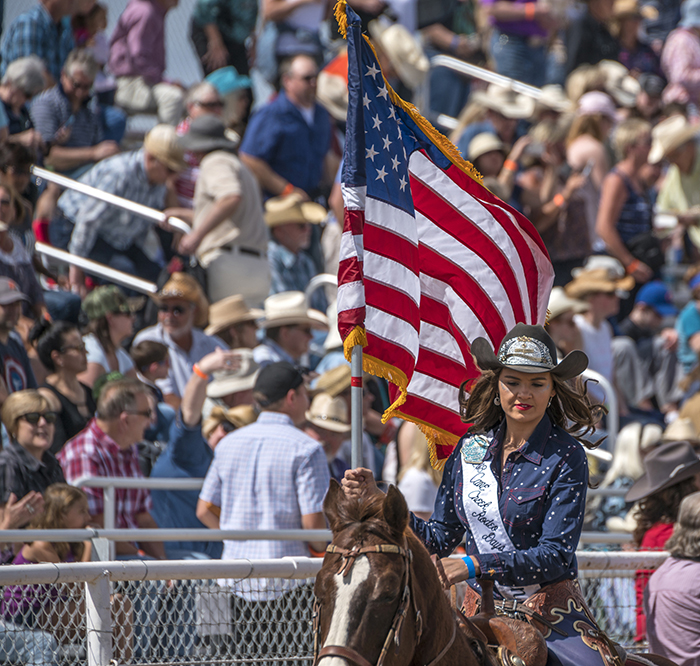 "The payoff will be great," he says. "In addition, the top five contestants will run one more calf during the Sunday, March 29 performance for a chance to win $300 bonus prize money."
Holland cannot wait.
At 41, she has spent most of her life rodeoing, first growing up on a ranch in Montana and now splitting her time between her hometown and Cave Creek. An equine veterinarian who works at Turf Paradise in the winters, she and her husband Dr. Ellis Farstvedt own Performance Equine Specialists, a mobile veterinarian service.
"A lot of us who are passionate about roping have been frustrated that we've never had an opportunity to compete on a national level," Holland says. "Up until now, we've been regulated to compete in breakaway roping at amateur rodeos and at local jackpots."
She is also anticipating a large turn-out for the competition.
"This field is growing, not retracting," she explains. "Cheyenne Frontier Days — the 'daddy of 'em all' — allowed breakaway roping for women for the first time this past year. They only had spots for 120 girls and filled them in nine minutes when entries opened. Once word gets out about Cave Creek's event, I'm sure we'll see competitors travel here from all over the country."
Quick, Unpredictable Excitement
While Holland has competed in barrel racing, she likes the spontaneity of breakaway roping.
"I like the fact that I have to account for a second live animal that is basically a wild card," she says. "There's a lot of strategy involved between watching the calf, riding the horse and swinging the rope. Everything happens within 2.5 seconds and a lot could go wrong."
There is also a lot of training, planning and hard work behind the scenes — starting with the horse.
"Not all breeds are alike and it's important to find out early if your horse is cow-bred, meaning that he likes to follow the cattle around," Holland says. "Early in my training, I'll swing a rope, stop the horse and back him up two to three steps. I start out slowly and get faster. It's a lot like riding a bike with training wheels."
While Holland loves to compete, she is equally passionate about mentoring others. She is a board member of the nonprofit youth rodeo association Tomorrow's Rodeo Champions, where she helps to coordinate youth rodeos from June to August in Billings, Montana. In addition, she and her husband take every opportunity to expose their three young children to rodeo.
"Rodeo is a fun, family event," Holland says. "We all win together and lose together. And when there are defeats, we emphasize that they provide opportunities to learn and become a better competitor."
Holland is devoting any extra time she has to preparing for Cave Creek's Breakaway Roping for Women Competition.
"The money would be nice but, for many of us, it's about finally getting the chance to compete on a national level in a PRCA-sanctioned event," she says. "The world is changing and our time is arriving."