Big Bronco Kicks Off 20 Years
Writer Shannon Severson
Photography by Art Holman
Big Bronco has long been a fixture in Cave Creek as a place for beautiful, artisan-made furniture, decor and gifts. This year, owner Faith Weinberg is celebrating the store's 20th anniversary and thanking her customers by hosting the "Biggest Event of the Year" –– a fun-filled fiesta and a weekend-long sale.
Weinberg will welcome the community 4:30–7 p.m. Saturday, April 25 to celebrate and raise funds for charity with live music, a taco cart and her popular annual raffle of high-value art and furnishings by some of her most popular artisans.
"It's our biggest celebration ever," she says. "We are going to have a lot of surprises. It's the time we make our biggest donation to my favorite horse rescue organizations: Arizona Equine Rescue and Triple R Horse Rescue. Throughout the store, we donate 10% of all sales, plus the proceeds of the raffle, which raised $600 last year for the rescues."
Weinberg lives and works in this town that captured her heart. She rides the local trails on her Arabian/Quarter Horse, Daisy, and loves to take her rescue Jack Russell terrier on long walks through her Cave Creek neighborhood. Weinberg's business is thriving and she repeatedly points to her team at the store and the artisans she supports as having played a huge role in her success.
In a way, she was always meant to be here.
Captivated by the American West
As a young girl growing up in Ohio, Faith Weinberg eagerly anticipated her family's annual trip to Tucson. Horseback riding, cowboys and cowgirls, the landscape, culture and lifestyle of the American West captivated her imagination. Along with her fantastic sense of style and talent for design, it still describes her today.
With stops in California and Washington, Weinberg's career in fashion and retail eventually landed her in Arizona — specifically Cave Creek — where she founded Big Bronco as a small gift store, named for an old coin-operated riding horse (there's now an antique version of it on the store's front porch.)
"From the first time I saw that horse, I said that someday I'd have a store called Big Bronco," Weinberg recalls.
As Big Bronco celebrates its 20th anniversary, it has grown to an entire building, every corner of it filled with treasures that evoke the spirit of the West. The gift store is still filled with jewelry, children's toys and clothing, handmade ceramics, pillows and handbags. Nearly every item has a story behind it that Weinberg can tell.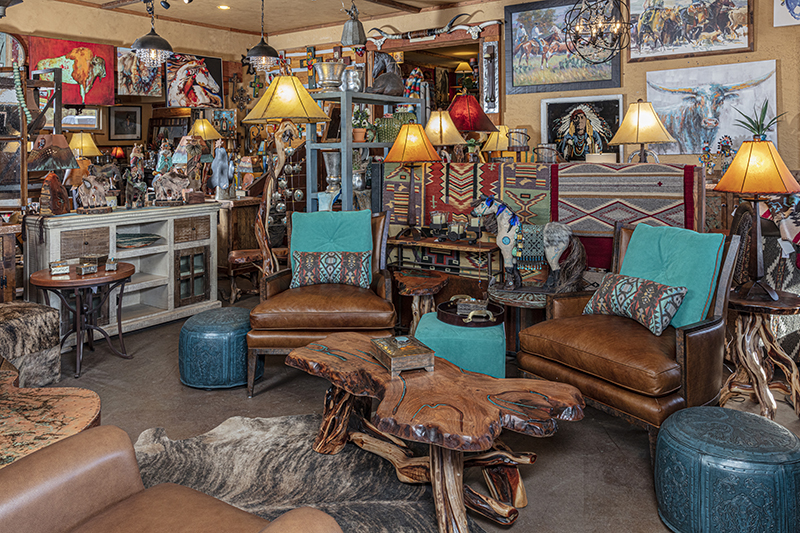 "I love to carry products, art, and furniture by local artisans and I choose American-made as much as I can," she says. "That is something very important to me."
The Furniture Barn is an artfully assembled showroom with examples of every type of furniture and accessory arrangement for the home.
"Our clientele is really mixed," Weinberg says. "We get lots of tourists, but also many local homeowners, including snowbirds who have newly purchased homes and want to furnish them with a feel of Arizona. They want artists and materials that reflect our surroundings and history."
The business' longevity is testament to Weinberg's keen eye, meaningful connections to customers and local artisans, and an eye for trends in the space.
"Over the years, the Western bunkhouse feel began to shift and moved more towards Southwestern sophistication," says Weinberg. "Today, we have the influence in the last few years of contemporary style furniture. I've made adjustments to the feel of a Southwestern home situated in the desert.
"I've introduced elements of modern but still staying true to our roots, fitting into the beautiful desert backgrounds we see out our windows –– the saguaros, the mountains, the natural colors, the earth tones — and also bringing in the element of southwest history — Native American, horses, the desert flora and fauna. We want to stay true to that history and we do it with an elevated, high-end approach."
She works with clients to create the feel of the store in their own home, designing custom furniture and hand-picking art, decor and specialty products to fill each shelf and cabinet.
"We have new products coming in all the time and I sell almost everything off the floor so customers can come in every six weeks and there will be something new," she says. "I change it up all the time."
Weinberg points to some specific artists whose one-of-a-kind work keeps patrons coming back year after year.
"Copper John" Poberzyn
"Copper John" Poberzyn is a third generation woodworker who creates large case furniture and end tables from reclaimed wood, including Alder and Sycamore, enhanced with copper and seed glass.
Every piece is handmade by Copper John. He has no fancy machinery, just hand tools. He works alone, building approximately 25 pieces of furniture each month.
"I usually build the pieces in my head first, then I put them on paper and then build them by hand," he says.
He walks the creeks, rivers, and lake beds of the Verde River and Tonto Creek Basin to collect driftwood pieces to use. He hand-hammers the copper linings of shelves and tables. He has developed a proprietary patina technique for the copper plates that enhance doors and drawers.
"Every time is different," he explains. "I was using my chemicals to make every piece turquoise blue, but I wiped off the chemicals and saw the beauty. It was like seeing a galaxy or a solar system. The liquids intertwine and mix. It takes time and I expedite the drying by applying heat. I wipe it off to see what I get, then add another portion on top to allow the turquoise to be prominent."
He calls his success a combination of happenstance and vision, but it comes from a massive dose of talent. After getting tired of cubicle life in the tech industry, his wife encouraged him to take his hobby and make it a business.
"The first two weeks when I started, I filled my truck with a bunch of furniture and immediately had four or five stores order from me on the first day," he explains. "It took off from there."
Big Bronco has been a perfect fit for what he does. His pieces are built to be heirlooms and reflect the rustic elegance that the store's clientele can't get enough of.
Cindy Eral
Cindy Eral's paintings grace the walls and shelves of Big Bronco. The interior designer turned artist has participated in Hidden in the Hills for the past two years and lives in Cave Creek. Eral's depictions of donkeys and desert flora have been especially popular at Big Bronco.
The Minnesota native received her first set of oil paints from her parents at 9 years old.
"I've painted all my life," she says. "I've set the brush down a few times, but always picked it back up. It has finally gone from a hobby to a business. Faith handpicks all my pieces that she carries in the store.
"I love animals and kind of fell into painting donkeys by accident when I was told about the wild donkeys in the area. I also do commissioned work and contemporary paintings from my travels or whatever inspires me."
Eral enjoys visiting Big Bronco because of the camaraderie and seeing what is new on the shelves and in the showroom.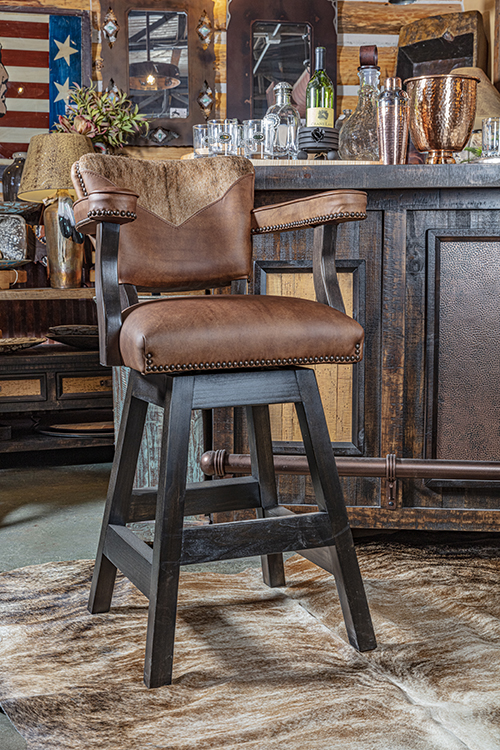 "I could be a recluse and just paint in my studio and never see anybody, but it's important to have that human connection," she explains. "When I do go in, people are so friendly. Faith's customers make an effort to visit her store because she's a great buyer, she knows her clientele. It's quite an accomplishment to have a successful business for 20 years."
Ronald "Sky" Davidson
Ronald "Sky" Davidson is a furniture builder whose Mesquite table lamps and coffee tables inlaid with copper and turquoise are especially in demand at Big Bronco. A Coast Guard Veteran, he first learned woodworking from his Great Grandfather.
Davidson builds every manner of furniture and decor from chairs, tables, and bedroom sets to clocks and cutting boards at his workshops in Benson (Cochise County) and the mountain town of Pine.
"I get my wood from salvage on private land and using forest service permits, using mostly wood from the seven western states," he explains.
Davidson's freeform designs are inspired by the flow of nature. Even the bases of his pieces are beautifully sculptural. The twisty nature of Mesquite from the Tonto National Forest is especially ideal for his vision because the snow load it supports in the winter causes the plant to grow with bends and curves.
"I want my pieces to be natural and free-flowing from base to top," Davidson explains. "Most people look at something from across the room and the purchase is really made from 10 feet away. Customers are looking for balance in flow, size, shape and color. You can't have plain stick legs beneath something organic and beautiful."
Though he has some help with milling, sanding, grinding and harvesting, Davidson designs everything himself and his hands touch every piece that comes out of his shop.
"I really enjoy what I do in every aspect," he says. "I've been working with Faith at Big Bronco from day one. I met her when she was on a trip to the White Mountains and I've been selling my work with her ever since. She's not afraid to take on challenging custom orders and I don't hesitate to create them. My store in Pine is seasonal, so the winter traffic in Cave Creek really works well for me."
Something of a Museum
Each of these artisans — and many more — contributes to the selection at Big Bronco, which Weinberg describes as something of a museum. She loves creating appealing vignettes and merchandising in ways that inspire visitors who want to take a piece of the West home with them, whether home is down the street or on another continent.
Her not-to-be missed 20th anniversary celebration includes discounts offered all weekend — Friday–Sunday — and she is creating a special commemorative gift for the event.
"This event is a way to give back to a community that has supported me all these years," Weinberg says. "I've been able to raise my son and make a living through the ups and downs of the economy and the business is thriving in its 20th year."
Big Bronco
6602 E. Cave Creek Road
480-575-1357