Photos by Nick Milotta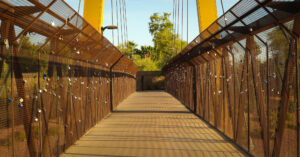 Peoria resident Nick Milotta recently submitted a photo that he took of the bicycle bridge that crosses over Loop 101 at 57th Ave. in North Phoenix.
"I spent some time hiking along the embankment on a trail until I found a good spot to set up my tripod and camera," Milotta says. "I waited until just after sunset and took the long-exposure shot. It really brought out the color and light trails of the passing cars. Just great vibes.
"I really love the architecture of the bridge as it really stands out in contrast to the surrounding area. The early summer months are the perfect time of year to ride and hike this area. It is still cool enough in the evening for a relaxing time."
instagram.com/nickmilotta.photos
Have a summer snapshot of Arizona life? Submit your photos to images@imagesaz.com for possible publication on this website or in an upcoming issue.