Artistic Evolution Breaking Boundaries of Creativity
Writer Joseph J. Airdo
Photography Courtesy of Wonderspaces
The landscape of the arts world is changing.
Classic architecture, ceramics, paintings, photography and sculptures continue to carry significance in today's society, but artists are finding new methods to express the way in which they see the world. Whereas creativity used to be about finding ways to color outside the box, it is now about finding new canvases to color, and new tools with which to do so.
As seen in Wonderspaces' debut exhibit in Scottsdale, many of these new methods invite audience engagement via virtual reality, body movement or three-dimensional exploration. The Wonderspaces team hopes that by exposing audiences to new and unorthedox works from artists, it can expand upon the audience for art while also challenging perspectives and creating conversations that lead to new ideas.
"[Wonderspaces] is an art show that is designed to be accessible to all audiences, whether or not you commonly identify with art," says creative director Kendall Warson. "It is a place that features work that is engaging, multi-sensory and probably unlike anything you have ever seen before. One of the strengths of Wonderspaces is that we are showcasing work with a diverse array of mediums."
Occupying the former Harkins movie theater inside of Scottsdale Fashion Square, Wonderspaces partners with artists from around the world to create art shows that run for about three months, creating a place where people can connect with art and with each other. The 16,000-square-foot venue is Wonderspaces' first permanent location.
"We have had two pop-up shows in San Diego," Warson says. "The first show was in 2017 and was put together by our co-founders Jason Shin and Patrick Charles. It was put up in a tent and kind of thrown together in a sense. Over the course of about 10 weeks, there were 56,000 people who came to experience it. The next year, we had 111,000 people come to a pop-up show at a cruise ship terminal."
Realizing the intrinsic benefits of exposing new audiences to artists' work, but also the inherent challenges of pop-up venues, the team put into motion a plan to sign long-term leases in cities across the country. It hopes to plant seeds in Austen and Philidelphia later this year.
"The intention is for these shows to go from city to city—not only to bring a really exciting offering to local communities but also to scale the impact of all the artists and their work," Warson explains. "That way, it is constantly reaching new audiences. Our intention is to be sort of a movie theater to the Arizona community and to have this continual offering that is rotating every three months."
The art installations are not the only things that will change every three months. The space has been re-designed to act as sort of shell, with modular walls and other easily modified elements that allow Wonderspaces to regularly reinvent itself. The space itself will change based on the theme of the exhibit, as will the food and shopping options.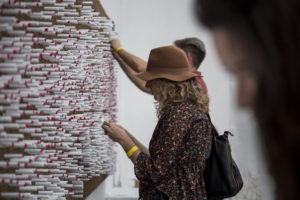 Entry is staggered every 15 minutes to ensure individual installations do not get too crowded, giving visitors an opportunity to peacefully and personally engage with each piece of artwork. Each show is designed to take about 80 minutes to experience but visitors have the freedom to enjoy the exhibit at their own pace.
Running through July 21, Wonderspaces' debut exhibit in Scottsdale—Point of View—features 13 installations that explore how new perspectives expand our concept of the world.
"A lot of the works are offering new perspectives or are abstracting perspectives—not only visually but also from a narrative sense," Warson explains. "People come to Point of View with their own perspectives as a visitor and that is interacting with the perspectives that the artists are bringing to the table. People are able to converse, share opinions, share ideas and walk out with an enlightened sense of reality and a larger scope on their point of view."
One of the highlights of Point of View is Dinner Party, a virtual reality film based on the story of Betty and Barney Hill—the couple who reported the first nationally known UFO abduction case in America in the 1960s. The installation, which was created by Angel Soto, Laura Wexler and Charlotte Stoudt, makes use of virtual reality headsets and is designed to replicate a mid-century dinner party atmosphere.
"It is exciting, a little scary and super engaging," Warson says. "You watch the film at a dinner table that we have designed in partnership with the artists. There are themes of isolation and of community. The installation format helps push forward those themes and engages the audience in the larger dialogue of what the director, writers and producers are exploring through the concepts of the film."
Warson is also proud that Wonderspaces can bring Body Paint to the Valley. The installation, which was created in 2009 by artist Memo Akten, is a visual instrument that enables people to paint on a virtual canvas with their bodies. Playing on our natural instinct to express ourselves through movement and dance, Body Paint interprets our physical gestures into evolving compositions.
"Even though it was created 10 years ago, Body Paint is still so relevant and engaging," says Warson, noting that Wonderspaces will occasionally dig into an artist's archive to find work that should be brought back to the forefront of people's consiousness. "Body Paint is less about the outcome and more about expressing yourself physically."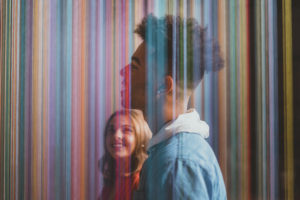 Point of View also brings Submergence back to the Valley after its 2017 exhibition at Scottsdale Museum of Contemporary Art. An immersive installation comprised of 8,064 individual points of light that visitors can walk through, Submergence was created by Squidsoup—an international group of artists, researchers, technologists and designers who work together to create interactive experiences.
"It is great because you are seeing this landscape but then all of a sudden you are a part of it," says Warson, noting the lights continually change colors in correspondance to music thereby creating feelings of movement within physical space. "It is a very visceral, accessible artwork that is just extraordinary and awe-inspiring."
Other noteable Point of View installations at Wonderspaces include a videotaped performance of two handymen sweeping trash for 12 hours; an audiovisual installation that distorts space and blurs the lines between what is digital and what is real; an immersive installation made of 19 miles of multicolor nylon string; and 3D-printed sculptures designed to animate when spun under a strobe light.
"A lot of the artists that we are working with are excited about their work reaching a broader audience," Warson says. "I think that the goal is to create a communal conversation and a space where people can confidently enter into and explore the concepts and perspectives that these artists are sharing."
Wonderspaces acts as an invitation for people who may ordinarily not be drawn into the art world to discover it through totally surprising and unexpected works. It activates visitors' senses in new and innovative ways, encouraging them to explore artists' perspectives and challenge their own while also sparking discussions with their friends and family.
"A lot of these pieces are not conventional," Warson says. "We strive to support installation art and find ways to present work that is challenging to present and might not otherwise exist in a traveling format. We feel like people are really moved by a lot of these pieces and are able to share experiences with one another and connect with each other through the context and lens of this artwork."
Wonderspaces: Point of View
Through July 21 | Scottsdale Fashion Square | 7014 E. Camelback Rd., Scottsdale | $19+ | arizona.wonderspaces.com