Arizona Wild Flowers
Writer Grace Hill
Photographers Paul Gill and Lori A. Johnson
As Arizona's winter comes to an end, our flowers get to work saying hello to the world, reminding us all to take a moment to appreciate the new life that bursts forth and that will soon follow everywhere else.
What a bursting of color occurs this season!
With the abundance of rain the grounds soaked up during the winter months, Arizona now boasts a glorious display of wildflowers, showcasing colors like pink, purple, yellow and blue, and all the different shades one could imagine. These flowers pour out intense hues — brilliant hues frequently seen above us in our sunset skies, but that can now be experienced at our feet.
However, with their days numbered – our summer sun will soon diminish their vibrancy – these wildflowers won't stick around to be admired! Now is the time to head outdoors for a vivid reminder that Arizona is more than just a monochromatic desert landscape.
Of course, the various types of wildflowers, like the Mexican gold poppy, desert marigold or Coulter's lupine, thrive depending on the location and the amount of rainfall that came down in individual areas. Luckily, many trails within and surrounding the metropolitan area provide enjoyable hikes right into the midst of the wildflowers.
To find a specific type of flower, visit Desert Botanical Garden's website. In partnership with Arizona's parks and gardens, Desert Botanical Garden makes the search simple by providing an online guide showing where wildflowers currently bloom.
For those who do take that trip outdoors, this month's photo essay photographers, Lori A. Johnson and Paul Gill, reveal the exquisite beauty that awaits. If these images don't inspire you to grab your camera, sunscreen, walking shoes, water and hiking partner (safety first!) to spend the day admiring our breathtaking landscape, then you must be one of the unlucky ones suffering from seasonal allergies. In that case, we feel for you, and encourage you to stay allergy-free and enjoy the wildflowers through these stunning photographs.
For the rest of you, hurry up! The heat is coming! It's time to see the flowers!
Share your wildflower photographs with our Images Arizona Facebook or Instagram pages using the hashtags #iamAZproud and #imagesAZ.
Paul Gill
Hometown: Phoenix
Current: Phoenix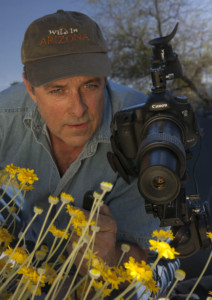 Photography experience: "I started shooting, processing and printing 35 mm black-and-white film at Scottsdale High School at age 16. I moved to medium format at Arizona State University, where I obtained a bachelor's degree in graphic design. After 17 years working and photographing in the graphic design business, I started shooting nature with a large format wood field camera and, finally, with digital cameras a decade ago in 2007. You can see my work in Arizona Highways magazine, National Geographic calendars and in the Smithsonian's permanent collection of nature photography."
Favorite AZ wildflower location?"Bartlett Lake is my favorite local wildflower location that has a great showing in March. It is one of the only places in Arizona to view albino Mexican Gold Poppies."
Advice on capturing a great flower photograph: "If the carpets of color don't show up, get close. Macro photography is a more intimate view of the beauty beneath our feet."
What drove you to wildflower photography? "Color! The desert Southwest is mistakenly thought of as a dull, colorless place. Every spring at this time I search the Sonoran Desert for the color explosion of new life and a new beginning."
paulgillphoto.com
facebook.com/paulgillphoto
wildinarizona.com
Lori A. Johnson
Hometown: Omaha, NE
Current: Phoenix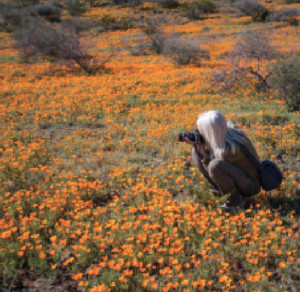 Photography experience:"My first job out of high school was in a photo lab/camera store in Omaha, Nebraska. I bought my first Canon SLR at that time and never looked back. When I decided to move out of state for college, I chose Arizona State University after admiring the stunning landscape photos in Arizona Highways magazine."
Favorite AZ wildflower location?"While spring desert wildflower displays can be spectacular, they rely on seasonal conditions to be just right. However, the mountain meadows around Flagstaff are much more dependable and have a longer window of opportunity for photographers to catch late summer wildflowers at their peak."
Advice on capturing a great flower photograph: "Do your research and be prepared to drive many miles on short notice. Don't be intimidated by photographers with expensive gear! Most smartphones are capable of taking impressive landscape photos, as well as close-ups. Tell a story by mixing wide shots with close-ups."
What drove you to wildflower photography "The ephemeral beauty of wildflowers can dramatically change a landscape for a brief window of time. Capturing one peak bloom can make up for several lean years!"