Writer Joseph J. Airdo // Photography by Yuri Bejarano
Anthem resident Joe Bousard believes that you do not necessarily need high production values to tell a compelling story on a stage.
"You can do it with an actor, an audience, a good script and some good direction," he says.
Most important, though, is a willingness to be completely honest with the audience.
"Let yourself hang loose," explains Bousard, noting that an actor is him or herself first and the character that they are playing second. "Let yourself be as emotionally naked as possible — including the bad stuff that you do not think is very interesting.
"If you allow yourself that communication, you become the illuminator of all time. That, to me, is what acting is about. It is about illumination, telling a story and really creating a relationship with the audience and giving them something that they cannot get without you."
Bousard has been creating just such a relationship with the audience for more than 50 years. And although his professional journey in music and theater has taken him to not only New York but also as far away as Japan, it has now come full circle, bringing him back to Arizona where his story of stardom started.
Big Apple Aspirations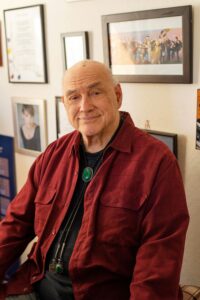 Born in Boston, Bousard moved to Phoenix at age 10. Although he had had some involvement in the performing arts as a child, it was not until high school and college that he began to discover its true significance in his life.
"I always felt that music and theater were very important to me," says Bousard, noting that he played a ghost in a play during the third grade — a role for which he had only one line. "I guess it was never not there, because I was always a pianist. That was my door-opener. The voice stuff came later."
After graduating from West Phoenix High School, Bousard attended Phoenix College, where he studied under drama teacher John Paul — for whom the campus's theater is now named.
"For two years there, I did everything I could possibly do to get involved in the arts, as well as with the community," Bousard says. "I also worked with Don Doyle, who was a professor at Arizona State University and had a children's theater. Little by little, everything started to come together."
Bousard later received a bachelor's degree in speech arts and theater from San Diego State College, where he performed and directed operas, plays and musicals. He was also very active in local radio and television.
After a stint in the U.S. Army, where he furthered his musical career, Bousard moved to New York in 1962.
"I thought that the ultimate reason to be around was to be an actor, which is why I went to New York to begin with," he says. "That was foremost in my mind as the most illuminating role that I could possibly have. And I was lucky enough to somehow become involved in the opening of Lincoln Center as one of the chorus people."
Bousard continued his work in piano and voice, honing his skills as accompanist and composer/lyricist for several singers while also directing choral groups and producing original scores for musical theater under his own banner — JBL Productions.
One of the highlights of his musical cabarets, which played all over New York City, was a lunchtime gathering at the Hallmark Gallery that featured the music of the Great American Songbook.
Bousard was also a contractual teacher of voice and musical theater at HB Studio, The New School and The O'Neill Theater Center.
"I stayed in New York for 32 years," Bousard says. "I built up a career in coaching and teaching, met my wife, had our daughter and did a lot of different things. Then, in 1994, I felt like I would be in a rut in New York if I did not get out. It was just not fun anymore in the late 80s and 90s — and it got expensive. So we decided to move back to Arizona, which was my home.
"And that is when I started all over again. At 57 years old, I started making the rounds and sending out letters and resumes. I met people and, little by little, built up my career all over again."
There's No Place Like Home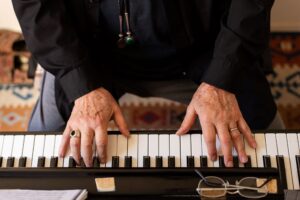 Within about five years, Bousard began to hit his groove again — but, this time, in Phoenix.
"And I have been busier than I have ever been in my entire life on every level of teaching, musical theater and cabarets," he explains. "I have also met some of the best, talented and most wonderful people that I have ever known."
Since his return to Phoenix, Bousard has appeared in numerous stage productions — including Paradise Valley Community College's musical revue "Gotta Sing, Gotta Dance," for which he also served as musical director and arranger.
Bousard's most frequent collaborations have been with Arizona Jewish Theatre Company and The Theatre Artists Studio, for which he has performed and created cabaret fundraisers, special vocal performances and more. He also co-produced and musically arranged the AriZoni Theatre Awards of Excellence in 1995 and 1997.
In 2003, Bousard moved to Anthem, where he has since collaborated with Musical Theatre of Anthem as a guest instructor, composer, writer, music director and performer. The nonprofit performing arts organization's producing artistic director Jackie Hammond says that Bousard has a heart of gold and an enormous amount of talent.
"Musical Theatre of Anthem has produced two of his original works — 'Something Beautiful' and 'The Pied Piper of Hamelin,'" says Hammond, noting that Bousard also allowed the theater to remount the former show as a "Zoomsical" during the COVID-19 pandemic at no cost. "Joe has also vocal directed a number of shows at Musical Theatre of Anthem and continues to be a guest master instructor at our summer performing arts institute."
Bousard is as grateful to have Arizona's community theaters like Musical Theatre of Anthem as they are to have him.
"We have some of the most talented young people and adults who have never been professional or gotten paid a huge fortune but do some of the best work that I have ever seen," he explains.
In other words, you do not need to go to New York in order to see a spectacular performance. You also do not need to go there in order to live out your star-studded dreams; although Bousard would never dissuade someone from doing so if that is the path they desired to take.
"I learned a lot from New York," he says. "I met some great people and did a lot of wonderful work but had a lot of frustrations as well. New York made me fight harder for what I wanted."
Belief, Spirit and Hard Work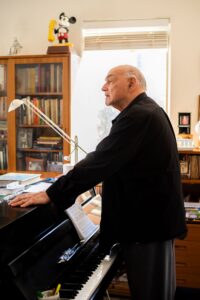 Up next for Bousard is a production of "Camelot" at Don Bluth Front Row Theatre in Scottsdale.
"We are doing the original production from the original script," he says. "We just trimmed it a little bit here and there to help it move along in a tighter format. And we are doing it in the round, so it is going to be a very intimate production."
Bousard will be co-directing "Camelot" with his wife Lorraine, a retired director of education for Hospice of the Valley who loves all aspects of the performing arts almost as much as he does.
As it turns out, it is a love that runs throughout all branches of the couple's family, with his daughter Shana — a full-time music therapist — having met her husband in Arizona Jewish Theatre Company's 1997 production of "Fiddler on the Roof."
"In fact, my son-in-law asked me, 'Do I have to audition to become a part of your family?' Bousard says. "We just laughed and said, 'Yes, you do.' My grandkids are not into it as much as we are but they are both very talented as well."
At age 85, Bousard is now more active in the performing arts than he has ever been in his entire life. In addition to acting, directing and instructing here in Arizona, he continues to make an annual trip to conduct special workshops and classes at Showa University of Music, just outside of Tokyo, Japan.
Bousard's lifelong dedication to the arts is due, in part, to his belief that they truly do make the world a better place.
"Those who are involved in the arts are considered to be better experienced and better prepared to do other jobs as well because they have studied a wide range of [subjects]," explains Bousard, noting that a proper arts education typically extends far beyond just theater, music and voice to include literature, history, different cultures and so much more. "The arts are all about belief, spirit and hard work."
Experience
Camelot // Through April 30 // See website for times // Don Bluth Front Row Theatre // 8989 E. Via Linda, Suite 118, Scottsdale // $28+; youth, senior, student and military discounts available // 480-314-0841 // donbluthfrontrowtheatre.com