Writer Rebecca L. Rhoades
Phoenix is known for many things: its perpetually blue skies and warm temperatures, its stunning desert landscapes, its vibrant culture filled with Native American and Mexican influences and its spicy Sonoran cuisine. But for architecture buffs, the Valley of the Sun offers another attraction: a plethora of midcentury modern homes and buildings.
According to the National Register of Historic Places, Phoenix has the second-largest concentration of midcentury modern architecture in the country. Its California neighbor Palm Springs comes in at No. 1. Both cities have attracted visionary architects who created sleek residences and innovative commercial structures that embraced the sunny environment.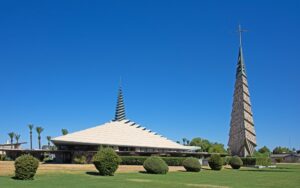 Mid-Mod Destination
The first non-Native settlers arrived in what is now Phoenix in the mid-1800s. Some of the city's most historic buildings were constructed during those early years, including the Queen Anne Victorian-style Rosson House, the Spanish Revival-style St. Mary's Church and the art deco Luhrs Tower.
The arrival of architect Frank Lloyd Wright in the late 1930s brought with it a new aesthetic — a more utilitarian one that embraced sleek lines, minimalist decor and a connection to the surrounding natural environment. As the city continued to grow, especially following the end of World War II, residents and local architects fully embraced this design movement known as "midcentury modernism."
What exactly is midcentury modern design? A response to post-war optimism and the fussy styles of the art deco-jazz age that included tufted furnishings; chintz, floral and plaid fabrics and wallpapers; and wall-to-wall carpeting.
Midcentury modern homes, on the other hand, showcased a more orderly, stripped-down look. Clean lines and sharp angles, concrete floors, floor-to-ceiling walls of windows, open floor plans, and the use of organic materials such as stone and natural wood, were defining elements of the era. The emphasis was on functionality over ornamentation.
From the 1940s through the '60s, neighborhoods filled with low-slung midcentury modern homes began to pop up around the Valley. Eye-catching businesses with dramatic rooflines and expansive glass fronts lined the main streets. Innovative construction materials, such as precast concrete, breeze block and modular components, became commonplace.
By the 1970s, midcentury modern design had fallen out of style, replaced by planned communities filled with ranch houses and street after street of identical-looking beige faux-Pueblo — and later faux-Tuscan — homes. But recent years have seen a resurgence in the demand for the midcentury modern look. Luckily, many of these original structures survived and have been carefully restored to their former glory.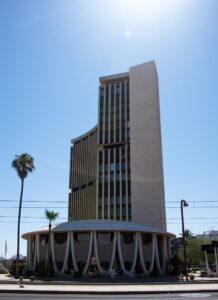 Masters of Design
The leader of the Valley's midcentury modern movement was Frank Lloyd Wright. In the late 1930s, the architect built a winter home in what was then the middle of nowhere — 26 miles from downtown Phoenix, in the foothills of the McDowell Mountains. Known as Taliesin West — named in concert with his home and studio in Spring Green, Wisconsin — the residence also served as a place to train his apprentices.
Wright and his students built the home by hand, using rocks and sand culled from the surrounding area to ensure that the structures looked as though they were an extension of the desert floor. Mixed with concrete, the stone composite became known as desert masonry. It is used on the exteriors of virtually every building at Taliesin West, and it became a characteristic element of Wright's Southwest designs.
During the next 20 years — the architect passed away in 1959 — Wright designed and constructed multiple buildings throughout the Valley. Some are private homes; others are open to the public.
Two of the most easily accessible structures are Grady Gammage Memorial Auditorium at Arizona State University and First Christian Church in Phoenix. Considered by many to be the crowning jewel of ASU's Tempe campus, the auditorium, which seats more than 3,000 people, features 50 columns that frame the glass-walled lobby. It was one of Wright's final projects. The church was commissioned in 1949 but not built until the early '70s. It is defined by its towering roof spire filled with stained glass and a dramatic freestanding stone-and-concrete bell tower that appears to be floating above the grass.
The Price House, located on Tatum Boulevard just north of Lincoln Drive, was built in 1954 as a winter retreat for Harold and Mary Lou Price, who just two years earlier had commissioned the architect to create the now-famous Price Tower in their hometown of Bartlesville, Oklahoma. At 4,500 square feet, it is the largest Wright-designed dwelling in Arizona with seven bedrooms, seven bathrooms, and a large central atrium with a fountain, fireplace and open skylight. The house occasionally is opened for corporate and charity events, as well as public tours.
While the Arizona Biltmore hotel is often credited to Wright, the extent of the architect's involvement was limited. What is known is that Albert Chase McArthur incorporated Wright's textile block construction — precast blocks with a geometric pattern made on-site from desert sand — resulting in an appearance that echoed many of Wright's residential designs.
Future renovation would play up the hotel's connection to Wright. A large stained-glass window designed by Wright and fabricated by Taliesin students was installed in 1973. It greets visitors near the front entry. Reproduction "sprite" statues, also designed by Wright, dot the property. Officially, the complex is recognized as a collaboration between Wright and McArthur, a former draftsman at Wright's studio.
Architect Ralph Haver is best known for designing modest tract homes from the 1940s to the early '80s. His signature midcentury modern dwellings — known as Haver Home — are characterized by their low-slung single-gable roofs, floor-to-ceiling and clerestory windows, and patioports, covered patios that connect the carport to the main house.
A number of "Haverhoods" remain scattered throughout the Valley. Some of the most popular include Marlen Grove in midtown Phoenix, Windemere in Arcadia and the Town & Country communities in Scottsdale and north Phoenix. These darling neighborhoods are chock-a-block with Haver Homes that have been meticulously restored or updated with contemporary design features. Brightly colored front doors, mature foliage and vintage cars add to the picture-perfect appeal.
Originally built as affordable starter houses, Haver Homes now fetch upward of $1 million.
Another architect whose Valley residences command top dollar is Alfred Newman Beadle. Inspired by Bauhaus and greats such as Mies Van Der Rohe, Beadle designed homes and apartments, including the only case study home outside of California, the Triad apartment complex on North 28th Street.
Two of Beadle's most well-known works are the landmark 21-story Executive Towers complex and White Gates, one of the city's most Instagrammed architectural sites. Nestled at the base of Camelback Mountain, surrounded by contemporary McMansions, the tiny ultramodern box is defined by its white ellipsoid bris-soleil. It has never been lived in and, sadly, now sits abandoned. Next door is a similar white Beadle creation, the Uhlmann home, which has been lovingly rehabbed to showcase its character-defining breeze block walls.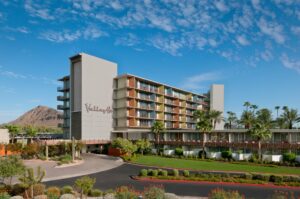 Innovation on Display
Of course, these three masters are just the tip of the modernist iceberg that is Phoenix's architectural legacy. Adding to the design landscape is Bennie Gonzales, an Arizona native whose work merged modernism with regionalism. Some of his signature details were parabolic arched windows and doorways and glass-tiled roof canales. Gonzales is best known for his work on the Scottsdale Civic Center and Gloria Dei Lutheran Church in Paradise Valley.
Blaine Drake was one of Frank Lloyd Wright's original apprentices. He built hundreds of houses across the region, but his largest work was the Unitarian Universalist Church at 40th Street and Lincoln Drive.
On the commercial side, some must-see buildings include the Phoenix Financial Center on Central Avenue. Designed by Peruvian architect Wenceslao Sarmiento, a student of Oscar Niemeyer, the eye-catching complex consists of a curved tower and two rotunda buildings. The glass rotundas are wrapped in sweeping parabolic arches that call to mind the arched designs of Niemeyer and Broyhill's famed Brasilia line of furnishings.
The Valley National Bank building, now a Chase bank, at 44th Street and Camelback Road is fronted by a forest of concrete dendriform columns. The whimsical shapes recall "Alice in Wonderland's" magic fungi or the Seussian baobab trees of Madagascar. Architect Frank Henry was inspired by the mushroom-shaped columns of Wright's Johnson Wax Headquarters. The curved main building is clad in a stone and concrete finish, echoing Wright's desert masonry. Henry later went on to teach at Taliesin West.
Across town, the 300 Bowl and the Western Savings building are two of the city's most unique structures. The 300 Bowl, also known as Bowlera, features a dramatic three-point Googie-style roofline, while the circular Western Savings building, also designed by Sarmiento and used for many years as a Souper Salad restaurant, is known for its funnel-like roof structure that's reminiscent of a crown roast. Today, the building is home to a gun store.
Modern Phoenix is a local organization that's devoted to celebrating and preserving the area's midcentury architecture and design. Its website is a treasure trove of information, from profiles of architects to stories and photos of buildings long since demolished. And each year, the organization puts on Modern Phoenix Week, the Valley's answer to Palm Springs' Modernism Week — which includes lectures, visits to architectural studios and the always popular home tour.