Writer Joseph J. Airdo // Photography by Carl Schultz
For nearly two decades, a group of Anthem residents has been meeting, painting together and offering one another supportive feedback while proving that artistic talent flows very abundantly through the community's veins.
Finest Local Artists in Residence is a group of Anthem artists who offer advice, encouragement, critiques, ideas and general friendship to others with similar interests.
"We all critique each other's work in a very kind and magnanimous way," says Sandy Francis, FLAIR's board president. "We give each other good ideas. I had a painting that just was not coming together at all until one of the gals came over and said, 'I think that these do not pop forward enough. This needs to be darker.' And she was exactly right. So we really help each other a lot."
FLAIR is much more than just a painting group, though. It is a community of individuals who, through shared skill and interest, have become incredibly close friends. Those friends just so happen to meet once a week with the intention of working together to improve their craft.
And once a year, those friends organize an art show that proves to everyone — including themselves — what they are truly capable of.
This year's FLAIR art show — scheduled for March 24–27 in Anthem Golf and Country Club's Persimmon Clubhouse — will feature several subjects in a variety of mediums, all created by local artists who are committed to their craft and to the advancement of art in the community as a whole.
Painting is Practice
In the early 2000s, a group of artists in Anthem began meeting and painting together in one another's casitas. The group was comprised of members of The Wednesday Club — a social organization for residents of Anthem Country Club.
"They have interest groups that you can sign up for," Francis explains. "The paint group is just one of them."
With the plethora of works being created, it soon became apparent that an art show was appropriate and desirable for those interested in displaying and selling their art. A number of the group's members then created FLAIR with the intention of accomplishing exactly that.
The by-invitation show is comprised of and organized by members of The Wednesday Club's paint group who regularly attend Monday meetings.
"So many people are so very talented but painting is practice," Francis says. "It really is. So when you make a commitment to be there on Mondays, you really enrich yourself and become a better artist."
FLAIR has since become a supportive vehicle for artists in Anthem to take their hobby to the next level as they learn how to create a body of work, learn how to frame their art, learn how to exhibit it and learn how to prepare for a truly professional art show.
"FLAIR is an entity that really brings art, as a hobby, to a little bit more of an involved level," says Francis, noting that creating multiple pieces on a single subject then framing and exhibiting them in a similar way is key to creating a body of work and developing a signature aesthetic. "So it is a really nice way for artists to get to that next level."
FLAIR occasionally organizes field trips to galleries and artists' studios and hosts special workshops for which it brings in teaching artists to provide further instruction to its members. Its artists also mentor one another, all in the name of creating an extremely supportive community and contributing to Anthem's well-deserved recognition in the overall art world.
"It is just a really nice experience," Francis says.
Art is Meditation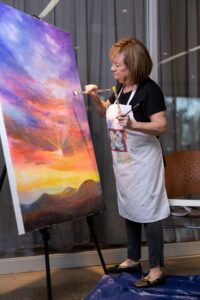 Of course, FLAIR also provides a venue for artists in Anthem to show and sell their art. Francis acknowledges that putting on an art show is a lot of work. But that only further proves the commitment and dedication of FLAIR's members.
"Everybody who is an artist helps set up the show in teams," she explains. "And we all donate our time. Everybody works very hard on this show."
Francis adds that FLAIR's artists are more than just hard-working, though. They are also extremely talented. Artists create works in oils, acrylics, pastels, watercolor, stained glass, pencil, pen and ink and all combinations of the aforementioned mediums. Subjects include everything from landscapes, wildlife and floral arrangements to abstracts, portraits and everything in between. Many works are available on greeting cards as well.
Moreover, the art show attracts large numbers of attendees — many of whom could be considered "regulars," making it a point to come on the first day of the show each year to discover new artists and purchase new works by their favorites before they sell out. Small works, which all sell for less than $100, are especially popular.
Participating artists also donate works and sundries toward the creation of three uniquely curated baskets — this year in themes of cooking, golf and the Southwest — that are then raffled off to those who purchase tickets during the event. Artists also receive the vast majority of the money they make during the show. FLAIR keeps a small portion of proceeds so that it can pay for panel storage and other operating costs.
But while making money is nice, the real reward is something much more significant.
"The real reward is having your work done, finished and displayed," says Francis, adding that seeing and hearing people's reactions — good or bad — is also extremely gratifying. "Many of our artists also contribute works to local fundraising efforts put on by local nonprofit organizations, such as Anthem Cares Through Service. We try to give back as much as we can."
It is just further proof of not only FLAIR members' commitment to one another, to their craft and to the community but also solid evidence that artists, in general, tend to be truly wonderful people.
"I do not know the reason for that," Francis says. "Perhaps it is because art is a meditation. When you are painting, three hours can go by and you thought it was only 20 minutes. It is very therapeutic."
FLAIR Art Show
March 24–27 // Thursday Noon–9 p.m. // Friday 10 a.m.–9 p.m. with Artists' Reception 5–9 p.m. // Saturday 10 a.m.–9 p.m. // Sunday 10 a.m.–2 p.m. // Persimmon Clubhouse at Anthem Golf and Country Club // 2708 W. Anthem Club Drive, Anthem // Free