Photo Courtesy of Dharma Kelleher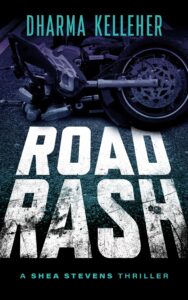 In "Road Rash," after a minor motorcycle accident, lesbian biker Shea Stevens wants to recuperate at home with her girlfriend and work on a design for a new custom motorcycle. But when Megan, the adult daughter of a friend, disappears into a suspected cult in Sedona, Arizona, Shea goes undercover as a prospective recruit to bring the young woman home.
Upon her arrival at the compound, Megan assures Shea that she is not in danger and that the allegations of the group being a cult are bitter lies told by its ex-members. But Shea is not so easily convinced. When she discovers what ha really going on, her suspicions turn to outrage. But saving Megan could send Shea back to prison for decades.
The wind roared in Shea's ears as her sport bike flew past the Ace Hardware and the Dairy Queen on the rain-slicked street heading out of the Ironwood. The lingering drizzle had left her soaked, cold, and eager to get back to the shop.

She whipped around an armored truck and a Buick with Oregon plates. She thought she was in the clear and began pouring on speed when a hulking white pickup truck pulled out in front of her from the Walmart shopping center. Shea braked hard, executing a panic stop.

The bike's back tire drifted sideways on the wet asphalt, threatening to slide out from under her. The distance between her and the truck evaporated.

She eased off the back brake and turned in the direction of the slide. The motorcycle straightened out and slowed just enough to avoid a collision.

Fury blossomed in her chest from the close call.

"Road Rash" by Dharma Kelleher
"Road Rash" is the fourth novel in Phoenix resident Dharma Kelleher's Shea Stevens Outlaw Biker series. One of the only openly transgender authors in the crime fiction genre, Kelleher's action-driven thrillers explore the complexities of social and criminal justice in a world where the legal system favors the privileged.
Images Arizona recently caught up with Kelleher to ask the author a few questions about "Road Rash" — the latest selection in its summer book blub.
From where did you receive your inspiration for this book?
With the rise of Q Anon and the cult-like radicalization of the GOP, I was curious how Shea Stevens and her motorcycle club — the Athena Sisterhood — might rescue someone caught up in the twisted world of a cult. The days of forced extraction and deprogramming are over. So I was left with the question of how to save someone who does not want to be saved. I took a deep dive into learning about a number of cults — including NXIVM, Scientology, Jim Jones, Heaven's Gate and others.
Aside from that initial inspiration, were there any other experiences from your life that played a part in the setting, characters or trajectory of the plot?
One thing I drew on was a motorcycle accident I had a few years ago, whereby I shattered my ankle. I also drew on my experiences of coming out as transgender 30 years ago and struggling to come to terms with my religious beliefs at the time.
What themes did you aspire to tackle with this particular work? Did any other themes reveal themselves to you during the writing process?
I wanted to explore the concepts surrounding truth, lies and beliefs. Why do we believe what we believe? Why do we trust the people teaching these beliefs? And what happens when people we held in high esteem betray us?
What or how are you hoping your book makes readers feel? What other takeaways do you hope they have?
For starters, I want to entertain with an exciting story. I put my heroes through the wringer in this. But I would also like readers to begin to think more critically, to question authority and to develop more compassion for those unlike themselves.
What are some of your own takeaways? Specifically, did your characters teach you anything?
Since my motorcycle accident, I quit riding. Writing this book has helped me come to terms with that difficult decision. Shea Stevens will always be a part of me. The rebel. The outlaw. The anti-hero.