On the Dot with Sherab Khandro
Writer Amanda Christmann
Photography courtesy of Goldenstein Gallery, Sedona
In life, as in art, nothing stands alone.
Brilliantly colored galaxies are all part of a greater universe, and within each one are planets, moons and suns spinning in their orbits. From space, even our Earth appears as a dot, yet it is covered in oceans, land and atmosphere that can only be seen from a closer perspective.
Even you and I are individuals within humanity, yet we can be broken down into organs, cells and atoms—and likely even smaller parts, of which neither of us is aware.
Some would call this science, but Sherab "Shey" Khandro would call it art.
For decades, Khandro has studied life through the lens of her heart's eye, finding inspiration in the interconnectedness of all things, and a sense of spirituality in the fact that what we think we see is often not what we are seeing at all.
Based in Sedona, Khandro is a painter, sculptor, speaker and writer whose words and art transcend eras and dogma. She spent years in formal training with Tibetan masters who were in exile in the U.S., becoming ordained as a Buddhist nun and asking herself the same fundamental questions about truth and purpose that her art now evokes.
Today, standing 5'11" with her confident sense of fashion, intense eyes and easy smile, she looks every bit the part of the artist. In reality, however, she dances between the roles of muse and creator, asking us to question the ties that bind us to suffering and to recognize our own ability to design our lives through intention, gratitude and compassion.
Khandro's journey to Sedona began when she was commissioned to complete the Amitabha Enlightenment Stupa and Peace Park. She expresses herself through bronze sculpture and meaningful jewelry, but she is most known for her vivid and detailed pointillist works that range from brilliant buddhas to exquisite dragonflies.
The mechanics of pointillism is a paradox of simple and complex: instead of combining colors on a palette to create the perfect shade, pointillists use dots of individual color to trick the eye into seeing what the mind believes are solid shades and patterns.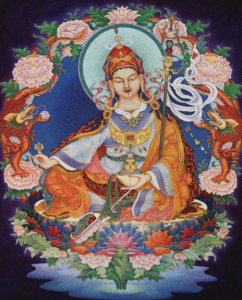 Padmasambava: The Lotus King
Framed acrylic on board, 48"x 60"
This complex painting took a full year to complete, and is the third in a three-part series depicting the three kayas, or three bodies, of the Buddha. It is full of symbolism, and remarkable in depth.
"Whether it is understood or not, the blessing is there, potent, radiant and immeasurable, drawing forth the very best qualities of our hearts," says Khandro.
Each piece is comprised of thousands of individual dots of color that, taken alone, are unremarkable. Taken together, art imitates life and each dot becomes part of a much more complex and beautiful image.
Artistically, Khandro stands alone. Unlike other pointillist painters, including founders Georges Seurat and Paul Signac, the brushes she uses are much smaller, and her details more vivid. Each piece is the result of months of work, and it's incomparable to anything else created today.
Linda Goldenstein, who has represented Khandro's work at Sedona's Goldenstein Gallery for 18 years, is still moved by each new painting.
"I find pointillism so fascinating as a technique because, in the art world, you hardly ever see it," said Goldenstein. "It's so rare. Shey stands apart from so many other artists. This is an artist who has been willing to take formal training from art masters for years and years, who is willing to go the distance to take time to create."
For Khandro, there is a spiritual element to pointillism that goes far beyond the mechanism. Each time her brush touches canvas, she leaves a tiny circle of color infused with a prayer for peace, compassion and love. Every depiction of iconic imagery is sprinkled with symbolism and mysticism, each radiating with very human benevolent energy.
"A single dot on canvas is not big, but when there are many, the light comes out, the dark comes out, and we begin to appreciate the beautiful diversity that makes up everything around us. Life is like that—people are like that. We just need to take a closer look."
Khandro's work is a mirror into our own lives, creating reflections that invite introspection.
"Dots are representative of all the little acts we do throughout our lives that add up. I hope my painting speaks to the power of each moment, for us to use those moments to make a difference, and to recognize the impact each act can have in our lives—the power it has to change our own perspective and the perspectives of others."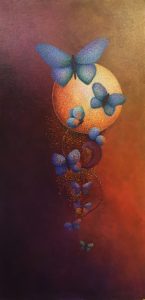 Guided by Moonlight
Acrylic on canvas, 24"x12"
The butterfly is a symbol of transcendence and metamorphosis, as well as graceful but strong feminine energy. Khandro manages to combine that symbolism with their sentient natural beauty in her work. "Guided by Moonlight" incorporates the upward spiral used in many of her works, symbolic of sending prayers for compassion and peace into the world.
Even at face value, Khandro's work is inspiring. Her butterflies and dragonflies in flight evoke a connection with nature that doesn't require self-reflection to appreciate.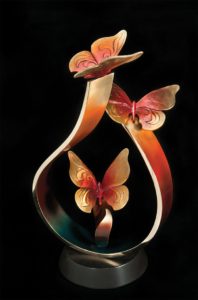 Flame of Compassion
Limited Edition Bronze Sculpture Ed 18
18″ x 10″ x 9″
This beautiful piece is cast in bronze and adorned with a patina of brilliant reds and golds to hold the energy of compassion and wisdom. The flame at the center and the butterflies within inspire movement and is symbolic of lifting our figurative wings in transformation through intentional acts of compassion.
"May each piece serve to remind us that the flame within each of us lifts us to our highest level of being."
Her work is evocative, combining ancient wisdom with modern life and techniques, often in unexpected ways.
Her gorgeous bronze prayer wheels, one of which is 27 inches tall and mounted on a steel post in Sedona's Goldenstein Gallery, contain over one billion blessings of compassion, captured on microfilm and hidden from view. With each spin of the wheel, it's simple to imagine a flurry of kindness emanating from inside, like beautiful notes of silent music.
Nothing Khandro creates is accidental.
"It's meant to tell a story. It's meant to hold an energy," she says, her eyes wide with élan as she speaks. "My work talks about he importance of living life on purpose, of living life with an intention of bringing about benefit—of telling a story of the possibility of a world that's ruled by passion and loving kindness."
Adds Goldenstein,  "As beautiful and spiritual all of her work is, how heart-opening her work is, and how meaningful the message is—and how meaningful the responses from people are—at the end of the day, these are extremely well-done pieces.
"She's really, really special," Goldenstein says with sincerity built upon years of undeviating honesty. "This is why she's so remarkable and why I'm so drawn to it. She takes pointillism to another level."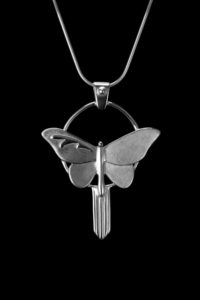 May Your Dreams Have Wings
Pendant, 3"x2"
"The butterfly is a symbol of transformation complete, wings spread, in flight," Khandro explains. A ring representing the unbroken connectedness between each of us encircles the butterfly, and the dot at the top serves as a reminder to be in the moment. The five lines below the butterfly symbolize the five elements and five directions, which support the birth and flight of our dreams.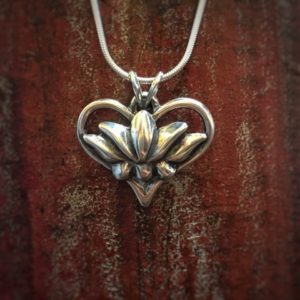 Lotus Blessings
Pendant, 1"x1"
A symbol of our blossoming consciousness 
Centered in the heart
We pour forth with love.
– Sherab Khandro
This pendant was inspired by a guided meditation lead regularly by Shey Khandro, inviting us to envision the awakening of our own conscious in the form of a lotus.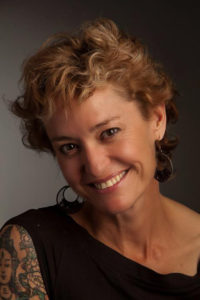 As Khandro creates among the beauty and fiery energy of the red rocks, that world feels possible, not only to her, but to those touched by her work.
"When I am alone in my studio and I am totally focused on my center, on my heart, on that place of offering, on that wish to be of benefit, and I have the magic of my tools with me, whether it be my sculpting tools or my brushes and my paints, those moments are so incredibly precious.
"I feel so incredibly alive and connected with a purpose that is so much greater than myself. I feel like there is something speaking through me, and I have the opportunity to be the vehicle for that. It is just profoundly nourishing and incredibly inspiring for me."