Photo Courtesy of L.A. Keller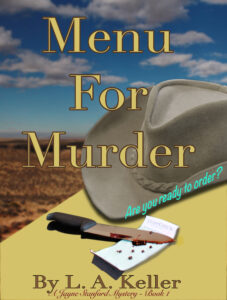 "Menu for Murder," L.A. Keller's first installment in her "Jayne Stanford Mystery" series of books, sets the stage for the antics of the author's somewhat disheveled restaurant worker.
When she is not writing, Keller can be found enjoying the numerous activities and social gatherings that take place within the Buckeye senior community in which she lives. She has also taught classes in creative writing and social media and, in her spare time, volunteers for a nonprofit organization that provides free wigs to cancer patients.
Even in the dark of the night, I saw the change come over the mayor. He approached me slowly, clenching and unclenching his hands as the rage built. A flash in his eyes sent shivers down my back and, for the first time in my life, I finally listened to my gut when it said, "Run, Jayne, run."

"Menu for Murder" by L.A. Keller
Images Arizona caught up with Keller to ask the author a few questions about "Menu for Murder" — the latest selection in its summer book club.
From where did you receive your inspiration for this book?
I worked in the restaurant business for a number of years and still have friends in the business. When I remember the funny interactions between the staff and guests, I thought it would be the perfect situation to create a cozy mystery series.
Aside from that initial inspiration, were there any other experiences from your life that played a part in the setting, characters or trajectory of the plot?
One of my closest friends has an amazing memory and she inspired my main character. My love of the Sonoran Desert ensured my setting would be where I live and where some of the Old West atmosphere remains. The rest of my characters are an amalgamation of people I've met through the years.
What themes did you aspire to tackle with this particular work? Did any other themes reveal themselves to you during the writing process?
I try to address some social issues with each of my books. It's important that my main character grows as a person and impacts others in a positive way. In the first book, Jayne realizes that she is stronger than she believed. This helps her step outside — way, way outside — of her comfort zone. In the second book of the series, the setting helps to form the basis for the message. "Cocktails at Sunset" features a lively group of seniors in assisted living. The purpose was to demonstrate that we may age but we are still active and involved.
What or how are you hoping your book makes readers feel? What other takeaways do you hope they have?
My only goal is to entertain my readers. I hope they try to solve a murder mystery and laugh during the process.
What are some of your own takeaways? Specifically, did your characters teach you anything?
Jayne is a constant reminder to keep trying, no matter what the odds. She overcomes obstacles but maintains a positive attitude and I strive for that on a daily basis.
What is next for you and/or your characters?
I have three books in the works, the first one being the third book in my "Jayne Stanford Mystery" series. I hope to have that completed soon. The next two books are standalone women's fiction — one of which is based on my often hilarious dating experiences, which led me to my husband of one year.