Writer Joseph J. Airdo // Photography by Zee Peralta and Skyler Scott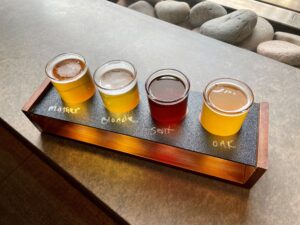 Bars and restaurants located in the walkable downtown core of Phoenix — including the Evans Churchill and Roosevelt neighborhoods — are set to participate in the city's ninth annual event designed to celebrate its distinction as one of the most extensive and diverse craft beer scenes in Arizona.
Scheduled for Saturday, Oct. 1, the Urban Ale Trail will offer attendees an opportunity to sip their way through some of the state's best brew-serving establishments.
"Overall, it is just a great showcase of draft beer," says R. J. Price, chief growth officer for downtown Phoenix. "The mixture of food and beer with the hyperlocal nature of our businesses and the art-rich sidewalk experience all come together in this nice four-hour package."
During the self-guided tasting tour, each participating bar and restaurant will offer three varieties of 4-ounce beer samples for $3 each, paired with a delicious and complimentary bar snack. Attendees may explore the roster in any order they desire.
"I describe it as a choose-your-own adventure," Price explains. "This is a really affordable way to try a number of our businesses with a very small investment. Downtown Phoenix is developing and changing at such an accelerated rate of speed that self-guided events like the Urban Ale Trail in the fall and the Urban Wine Walk in the spring are excellent vehicles for people to experience the area in real-time as it is changing."
That is to say that if you have not been to downtown Phoenix within the last three months, chances are you will have several new venues to visit, making Urban Ale Trail a very valuable event for both patrons and participants.
"It provides people with a really unique opportunity to see downtown Phoenix from the street level and is also a great opportunity for our businesses to put their best foot forward, put on a show and earn repeat customers," Price says. "Our small, locally-owned businesses give downtown Phoenix its rich, authentic, hyperlocal feel. Those are the types of businesses that will make up the majority of our roster."
Price adds that downtown Phoenix's historical buildings such as Westward Ho, Luhrs Tower and Orpheum Theatre further add to the alluring tapestry of the sidewalk experience, making the short walks — or light rail rides for those who prefer them — between participating bars and restaurants as enjoyable as your time at the establishments themselves.
Sheraton Phoenix Downtown will serve as the kickoff location for the event, boasting two participating establishments — including its newest dining option Carcara, which draws its inspiration from the deep agricultural history of Phoenix with dishes inspired by southwestern flavors. The hotel will also be hosting several giveaways as well as offering a reduced rate for Urban Ale Trail attendees who want to take the elevator home that evening.
"There is a lot that will be going on that day," says Price, noting that many of the participating bars and restaurants will also have live music. "It is going to be a great day to come downtown for the afternoon and check out how much we have grown."
Experience
Urban Ale Trail // Saturday, Oct. 1 // 1–5 p.m. // Downtown Phoenix // See website for participating locations // dtphx.org/aletrail