Photo Courtesy of Karen Odden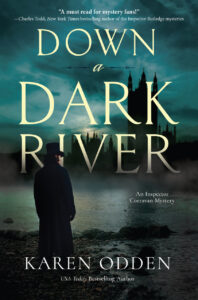 Set in 1878 London, "Down a Dark River's" cast of characters is led by Michael Corravan — a former thief, bare-knuckles boxer and dockworker who has risen through the police ranks to become a senior inspector at Scotland Yard.
In the wake of a corruption and bribery scandal the previous year, which nearly shut down the Yard altogether, the story sees the Yard men struggling to rebuild public trust. Corravan must work with the new director — Mr. C.E. Howard Vincent, the second son of a baronet, who has never served a day in uniform or solved a case but has been hired to put the Yard on the straight and narrow.
Corravan is in the midst of investigating the disappearance of Mrs. Beckford — the missing wife of a shipping magnate — when he is reassigned to the case of a beautiful daughter of a prominent, wealthy judge who is found murdered, her corpse in a rowboat drifting in the Thames.
At first, the motive seems to be connected to secrets the young woman was keeping; but then a second woman is found on the river, and then a third. As London devolves into panic, Corravan begins to suspect that this case of serial killings may be connected not only to the missing Mrs. Beckford but also to other, older crimes, for which someone is demanding a fierce vengeance.
The Victorian mystery was written by Scottsdale-based author Karen Odden. Having received her Ph.D. in English literature from New York University and wrote her dissertation on Victorian literature and history, all of Odden's novels are set in 1870s London.
Odden's first novel, "A Lady in the Smoke," was a USA Today bestseller, while her second and third books — "A Dangerous Duet" and "A Trace of Deceit" — won awards for historical mystery and historical fiction. Recently awarded a grant from the Arizona Commission on the Arts, Odden is a member of Sisters in Crime and Mystery Writers of America.
Announcing "Down a Dark River" as the sophomore selection in its summer book club, Images Arizona caught up with Odden — who, when she is not writing, can be found hiking Arizona's trails — to ask the bestselling and award-winning author a few questions about the novel.
From where did you receive your inspiration for this book?
Some years ago, I read a contemporary article about race, the law and injustice in the U.S. It included an account of a young Black woman in Alabama who was jaywalking across a quiet street when she was hit by a speeding car, driven by a wealthy white man who was intoxicated. She suffered terrible injuries, but when her family sued, the judge awarded her a mere $2,000 — justifying it by saying that she was jaywalking.
This is a deeply disturbing story, of course, but what caught my attention especially was the aftermath. The victim's outraged father took an unusual step: he threatened the judge's daughter. To my mind, he did so in order to show the judge what it was to almost lose a child. He wanted to make the judge feel what he was feeling; put another way, he wanted empathy and understanding. Words spoken in a court of law hadn't succeeded in eliciting it; but forcing the judge to walk in his shoes might.
This got me thinking about the nature and purpose of revenge — and how the rather glib phrase "an eye for an eye" obscures just how complex revenge can be. And I found myself compelled to write a book about injustice, failures of empathy and the desire for revenge.
Aside from that initial inspiration, were there any other experiences from your life that played a part in the setting, characters or trajectory of the plot?
From the beginning, the book felt darker and more ambitious. As I began to construct the characters and plot, I dug into my own "foul rag-and-bone shop of the heart" (thank you, Yeats, for that apt description), looking for the uncomfortable moments in my past when I felt the sting of injustice, when I'd tried to make myself heard but couldn't, and when I wished for revenge against someone who had hurt me.
Many of these episodes occurred in my childhood and teenage years, which isn't surprising, I suppose; that is when we have the least amount of power and resources. The crime at the core of this book occurs because, in 1870s London, young, poor women lack socio-economic and legal power, and older, wealthy men have it.
As for my hero, Michael Corravan, well, in Victorian England, the judges, the police and the barristers are all men. Women weren't allowed into the Met Police or even onto juries until around 1920. So I couldn't write a book with a young woman amateur sleuth, like my previous novels. Hence, the creation of my former thief and bare-knuckles boxer from the Irish section of Whitechapel, Michael Corravan. For those who don't know, in 1870s London, the Irish experienced a great deal of discrimination. I was somewhat of an outsider as a child, shy and unpopular, so I put some of that "outsider" quality into Corravan.
What themes did you aspire to tackle with this particular work? Did any other themes reveal themselves to you during the writing process?
I began believing I was writing about revenge and empathy, but I realized as I neared the end of the book I was really writing about the perhaps unresolvable tension between justice and mercy in our flawed, messy world.
Back in December, I traveled to London to visit my daughter, and I walked all over the city. From Blackfriars Bridge, where Corravan meets the killer in a climactic scene, I could actually see both the dome of St. Paul's (representing mercy) and the two twin spires of the highest law court of the land (justice). As Corravan wrestles with what to do with the villain, he concludes that he cannot satisfy the demands of either mercy or justice fully. But he can try to do no more harm, and that is the best he can manage. It's a gray area. I like gray areas in my books.
What or how are you hoping your book makes readers feel? What other takeaways do you hope they have?
I hope readers take away an awareness of how important it is that we listen to other people's stories — even when it makes us uncomfortable or makes us feel accountable. Empathy can be a balm to an aching heart and a powerful force for good.
What are some of your own takeaways? Specifically, did your characters teach you anything?
I am fascinated by how past experiences shape our worldview and our present behavior; I think it's an important endeavor, if we're trying to understand each other — real people, not just characters.
I spent a great deal of time thinking about how specific events in Corravan's childhood might shape his worldview. Growing up in rough Whitechapel, where the Jack the Ripper murders happened in the 1880s, Corravan had to shed all signs of vulnerability and weakness. He survived by virtue of his strength, decisiveness and skills with his knife. These attributes serve him well as a policeman, in his role of helping and rescuing people. But as his love interest Belinda Gale, a novelist and playwright, points out, Corravan also gets something out of always being the rescuer: he never has to admit to his own weaknesses, his own vulnerabilities.
After I finished writing the first draft, I realized Corravan's character arc includes him learning to be more vulnerable, to have some empathy with people who are suffering because it makes him a better policeman and a better person. Also, I considered how an experience such as being taken in by Ma Doyle, who is as humane and kind and sympathetic a person as I could imagine, enables Corravan to find empathy for another person when it makes the difference between life and death.
Can you provide a preview of the book's forthcoming sequel?
"Under a Veiled Moon" (available November 2022) was inspired by a footnote about the true September 3, 1878, accident involving a small wood steamer, the Princess Alice, that collided with an enormous steel-hulled coal ship, sending 600 passengers into the Thames. Nearly everyone drowned. And because it was a day-cruise ship, there was no passenger manifest, so no one knew who was on the boat. London went into a panic followed by city-wide mourning. Although historical accounts claim it was an accident, the author in me asked, "What if it wasn't? Who would have caused such a thing, and why?"
"Down a Dark River" was published in 2021 and is currently available everywhere books are sold in hardcover, ebook and audiobook, read by Joshua Manning.